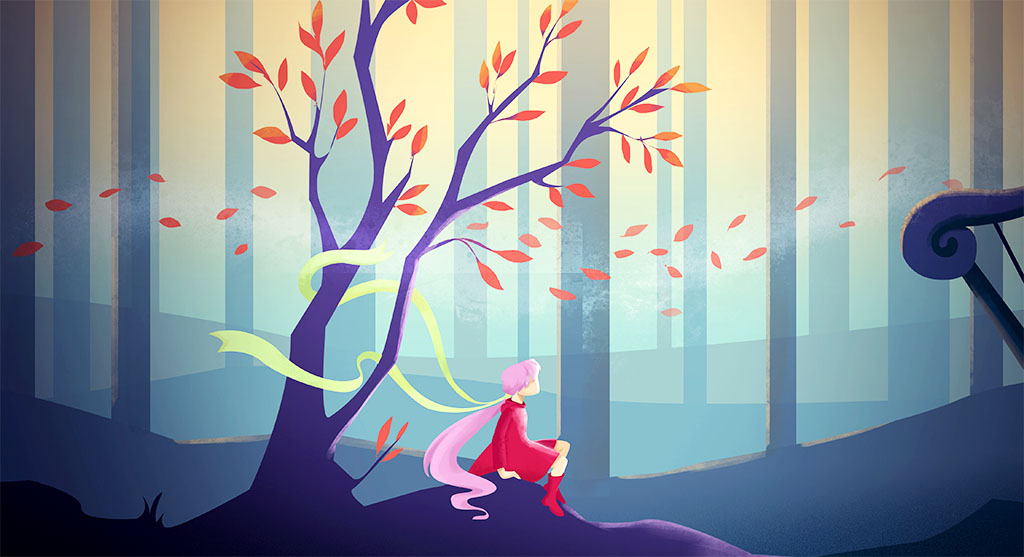 May 2021 Kickstarter spotlight
Every month (usually), I do a Kickstarter spotlight of a fantastic game that just launched a campaign. Sometimes, there are many good games with a live Kickstarter, and this is one of those months. I couldn't decide on which to pick, so I went with four! As is usually the case with my selections, nearly all of them are also combat-free!
LightBreak
Kickstarter | Twitter | Website | Wishlist | demo
Kickstarter ends: 3rd June 2021
Platforms: PC, Android & iOS
Genres: Rhythm, story-rich, puzzle, adventure
Expected release date: Unknown
Ava is out on an adventure when she finds Saaz, a magical artifact that plays through the soul of the person who carries it. A magical musical cube, Saaz can connect with a person's emotions and visualise their memories when they play it. While out on her adventures, Ava meets a powerful mage who casts a spell on her and takes her voice. Devastated, Ava returns home to tell her mother, but her mother is blind, and Ava has no voice to tell her tale. Can she use Saaz to share her story and somehow get her voice back?
The art and storytelling of LightBreak look amazing! The Kickstarter page mentions that the story is told over a series of vignettes, with a bigger story coming together across them all. I am interested to see how this all works out and how the mechanics of Saaz are integrated into the game. If you're interested in LightBreak, check it out soon as the Kickstarter ends on 3rd June!
A New Leaf
Kickstarter | Twitter | Website | Wishlist
Kickstarter ends: 10th June 2021
Platforms: PC, Nintendo Switch, Playstation, Xbox
Genres: Farming sim, adventure, sandbox
Expected release date: March 2022
You've washed up on the shore of an unknown island. You're alone, confused and unable to remember anything. Fortunately, you've ended up on the very friendly Omoide Island, where the mayor grants you a plot of land to use as you wish. The residents have also given you some basic farming tools to get started (so nice!). Equipped with all this, it's time to create a new life of farming, fishing, mining and more!
A New Leaf is (not surprisingly) inspired by Animal Crossing and Harvest Moon, with elements of each in the game. Something I liked from reading through the Kickstarter campaign is that there's an emphasis on self-care. Comments about making nutritious meals for your big days out, relaxing while fishing, hanging out with your pets (which are adorable!) and making friends! I think in farming sims, we can become a bit obsessed with productivity, so it's nice when a game encourages slowing down a little and enjoying the journey.
A New Leaf have smashed their goal and are now working towards some awesome stretch goals like more variety of pets and costumes for them! They also have some charming rewards for backers, so if you enjoy some wholesome fun, go check it out!
Bunhouse
Kickstarter | Twitter | Website
Kickstarter ends: 13th June 2021
Platforms: PC
Genres: Casual, couch co-op, farming sim, relaxing
Expected release date: September 2021
Ah, to be a bunny tending to their plants in a beautiful greenhouse! In Bunhouse, we can! Grow and maintain your plants, order decorations for your greenhouse and garden, and hopefully more. You can also play with a friend if you like in local co-op. There is even a stretch goal to get hats for buns!
Bunhouse is just the most adorable thing. You must watch the trailer to see them hopping and running around. Super cute! Aside from the cuteness overload, Bunhouse are also donating a portion of profits to House Rabbit Society, a non-profit dedicated to rabbit education and rescue. In addition to this, they will also include short, educational tips about rabbit care at the start screen to help educate players. Much love and care are going into this game, and I'm interested in seeing how it progresses.
Kandra: The Moonwalker
Kickstarter | Twitter | Website
Kickstarter ends: 19th June 2021
Platforms: PC
Genres: 3D platformer, metroidvania
Expected release date: Q4 2021
The Moonwalkers promised to be the keepers and the protectors of the magic, but over time the portals were closed and forgotten to time. It is up to us to visit the portals, open them and return magic to the world. We play as Kandra, who is tasked with this dangerous mission. Using her magic feathers, she can bring life to the world once more.
The Kickstarter and trailer for Kandra are gorgeous! The style and colours make a beautiful environment. However, there isn't any gameplay available, but the devs have advised that it will come later in the campaign. As Kandra is a metroidvania, I am interested in how we will journey through this beautiful world.
These all look like amazing games! I hope they're all successful with their campaigns. What do you think of my choices? Are there other Kickstarter campaigns you have your eye on right now? Let me know in the comments.