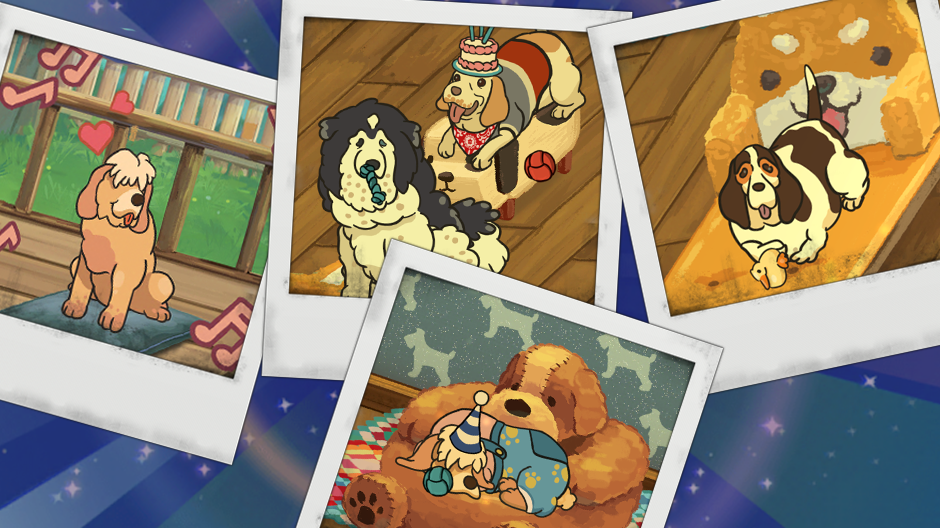 Old Friends Dog Game review
Mack gives a glorious "roooor!" when presented with his party hat. He may not be able to see it (he's blind), but he likes to wear it. Mack is one of the lovely old dogs you'll get to meet (and treat) in Old Friends Dog Game. Create your own dog sanctuary, and adopt the most adorable senior dogs to live out their days in happiness and safety. Old Friends Dog Game is based on the real Old Friends Senior Dog Sanctuary, and every dog you meet in the game is based on one of the real-life residents. I hope to get to meet lovable Archie!
Gameplay
Old Friends Dog Game is a mobile game that mainly involves tapping on items, dogs and menus to play. There is also some swiping as you give your dog pals some well-earned pats. That doesn't mean there isn't much to do in Old Friends Dog Game; you will always be busy with something, whether that is patting, feeding and playing with your dogs, baking them some delicious treats or live streaming to your many fans. Yes, Old Friends Dog Game has its own Instagram and streaming style platforms in-game. Unfortunately, you can't link up with other players, maybe one day in the future!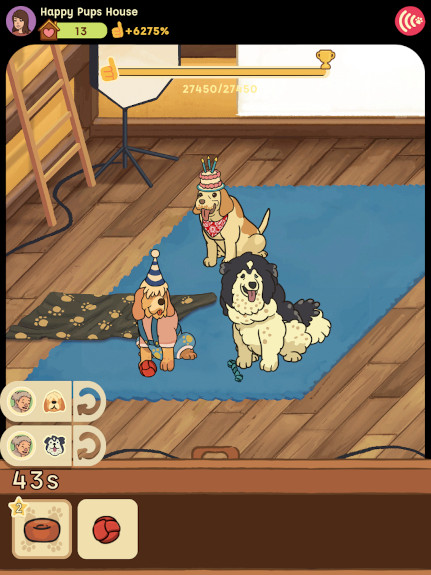 While the photos are just a little fun, the streaming is used for levelling up. As you treat your dogs well, you earn their trust and love, which is how you level up in Old Friends Dog Game. Once you have filled your heart meter, it's time to stream! They're pretty easy, though. There is a timer and some prompts on what viewers want to see, give your dogs pats and treats at the right time and earn points. Once levelled up, you get more items unlocked to build and bake.
Each dog also has an individual heart meter. All the dogs have their own journey and story to tell; filling their hearts unlocks little pieces of the story to enjoy. It will also let you unlock new dogs to invite to the sanctuary.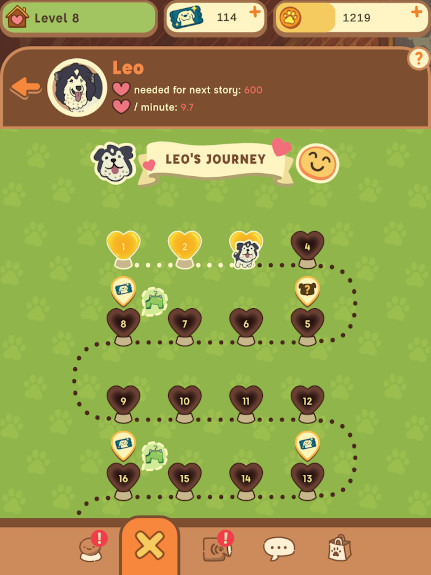 Old Friends Dog Game is a free-to-play mobile game, so there are prompts to buy items with real money and watch videos for perks, but after playing for a week, I haven't felt restricted by not spending money. There are plenty of ways of earning in-game currency that allows you to make treats for your dogs. There are also opportunities to do tasks for followers, and they might give you money or items for fulfilling them. If you're keen on costumes, though, you may be tempted to pay for some cute cosmetic items.
Art and sound design
The character design in Old Friends Dog Game is quite adorable. Each dog feels full of personality with different likes, wants and quirks. Bagel, the beagle, loves to sniff around and occasionally makes escape attempts. Mack, the cocker spaniel, is happy to just hang out on his favourite couch. They also get their own hats and costumes to wear. So far, Bagel's birthday cake hat is my favourite. The backgrounds are less impressive, though they serve their purpose. They set the scene without taking away from the dogs and all the cute furniture you can build.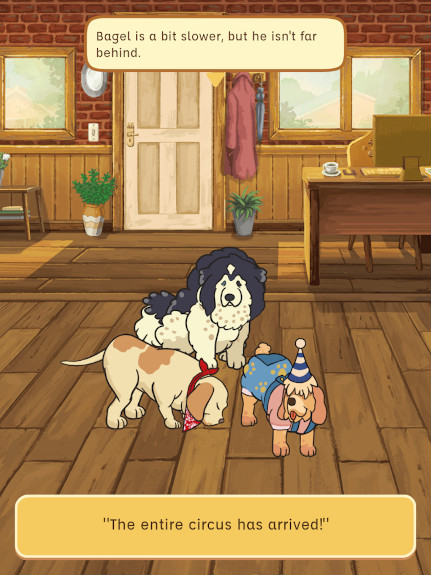 I have to admit that I don't really know much about the sound design. When I first started playing the game, I used my headphones, but I now play it without sound. It is a personal choice how you play, and I don't think you gain or lose anything depending on whether you have sound or not.
Final thoughts
I love Old Friends Dog Game! Each day I open it up to see how my dog friends are doing. Sometimes it can feel a bit tedious to keep up with pats, food and snacks as, with many mobile games, it's all based on time periods. Login more often, give more pats, get more points! The game does very well at keeping you playing. I have found, though, that the points still stack up if you aren't actively playing, so you can get the story components easily enough without hours of active play.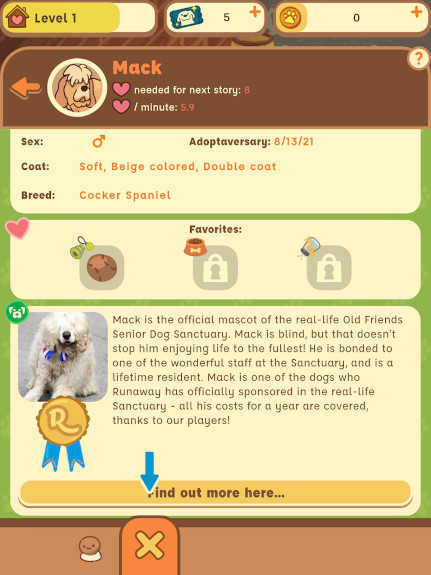 The choices matter element is nice, even if I'm not sure they're making a difference. I like getting a few dialogue options, though sometimes I feel like I made the wrong one. I'm just hoping there are no wrong choices in a game like this! I don't want my good boys (and girls) sad with me because of a dialogue choice I made. So far, it doesn't seem to be the case.
I especially like that it's based on a real sanctuary and those lovely older dogs get to feature in a game! I enjoy learning about the new dogs, finding out their traits and doing my best in making their recent retirement into their best years yet!
Want to know more?
Platforms: Android and iOS
Genre: simulation, narration, story-rich, mobile