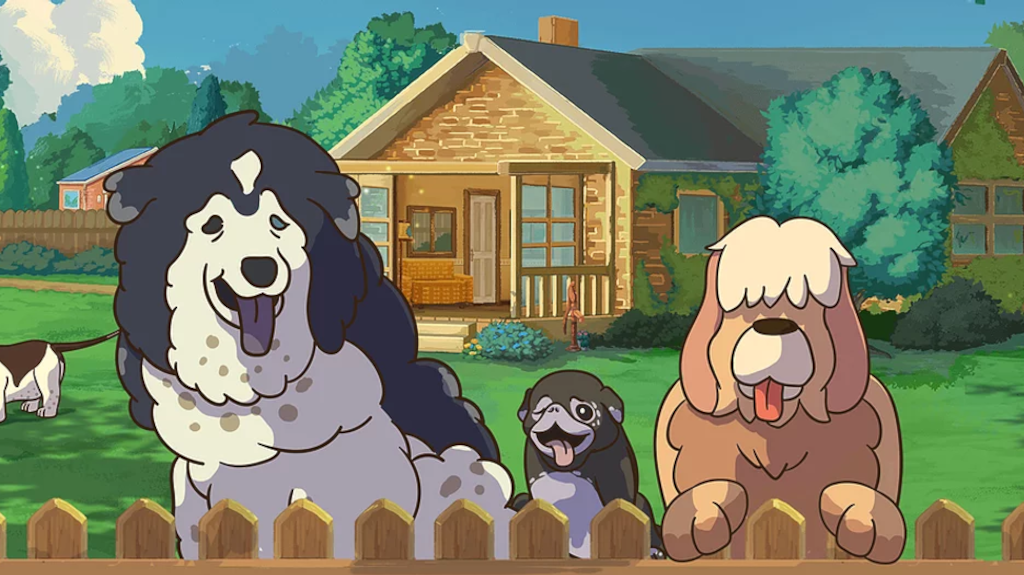 August 2021 indie game releases – part 1
Let's get into the August 2021 indie game releases! The start of the month has some adorable games in store for us, including an interesting programming game and a mobile game – the first for the site! I know I say it every month, but I'm looking forward to jumping into these games! It's getting to the point where there's just too many games to play and not enough time. I'll have to make more time for these titles!
Button City
Genre: Adventure, exploration
Platforms: PC (Steam), Nintendo Switch, PlayStation, Xbox
Release date: 10th August
Join cute fox Fennel and his animal friends on their quest to save their local arcade from closing down and being bought out by greedy fat cat Peppermint Pepperbottom. Enter a bright world filled with quirky characters, arcade games and floating islands. Make friends, play arcade games, solve puzzles, and complete quests while saving the arcade.
We're so close to being able to help out Fennel and friends to take down the man! After playing the demo last year, I've been keen to get into this neon world to meet all the quirky characters. My favourite character from the demo was conspiracy theorist Cilantro, so I hope we get to see her again and encourage her to take down Peppermint Pepperbottom.
Haven Park
Genre: Exploration, relaxing, simulation
Platforms: PC (Steam, Gog & Itch) and Nintendo Switch
Release date: 5th August
Grandma owns a vast park and campground, but she's decided it's time to retire, and you're looking after it now! It's a lot of pressure and responsibility, especially as so much is in disrepair. Run around the beautiful wilderness, bumping into campers along the way. Improve their campsites and make everyone happy campers, but no rush. You can do this at your own pace.
Haven Park was described to me as 'A Short Hike inspired', and while the graphics are very similar, the story isn't. Haven Park is more of a management sim style game, filled with tasks and quests to do. If you want to feel accomplished in a game without a lot of stress, give it a try!
Old Friends Dog Game
Genre: Simulation, mobile
Platforms: Android and iOS
Release date: 12th August
In Old Friends Dog Game, you create a dog sanctuary and fill it with lovable senior dogs. The game is based on Old Friends Senior Dog Sanctuary, which is essentially a dog retirement home. All of the dogs in the game are based on real-life dogs from the sanctuary! So make sure to give your puppers all the love and attention they deserve.
This game is just 😍. It's the first time I've ever featured a mobile-only game on the site, but I think it definitely deserves the spot. The inspiration is so wholesome and lovely, and I just want to make my senior pups the happiest they can be! It also comes out on my birthday, so it must be a sign!
Sam & MaRU
Genre: Puzzle, simulation, programming
Platforms: PC (Steam)
Release date:6th August
Sam is a programmer for the Singularity Corporation, and he is in charge of programming the maintenance robotic units (maRUs) to clean and maintain the factory but realises something isn't quite right with these MaRUs. He notices there is a whole lot of destruction happening and not a lot of cleaning. Solve puzzles using programming to get to the bottom of the mystery.
Sam & MaRU gives me RUMU vibes, but maybe that's just because they're both about robots gone rogue. I am intrigued by the idea of solving the puzzles using programming and think it looks like a neat way to gamify programming. As someone with minimal programming skills, I am keen to see how well I do with the puzzles as no experience is required to play.
Here Comes Niko
Genre: 3D platformer, adventure
Platforms: PC (Steam) and Nintendo Switch
Release date: 3rd August
It's Niko's first day on the job as Professional Friend, and the boss, Mr Frog (yes, he is a frog and a boss, tie and all), has assigned Niko to visit some islands and be an overall nice person to people. This could include catching fish, making art, or just listening to their worries. Here Comes Niko may be the most laid back platformer you play this year.
I have to admit, I'm interested in a game that calls itself a cosy 3D platformer for tired people. Sometimes I just want to play games, but my body is just too tired to comply. Maybe Here Comes Niko will be the game I can play when I have no energy to play games.
How adorable do all these titles look? I'm especially excited to have such a wholesome mobile game on the list and an intriguing programming game to try. Did I miss an August indie game releases you're keen to try? Let me know in the comments!