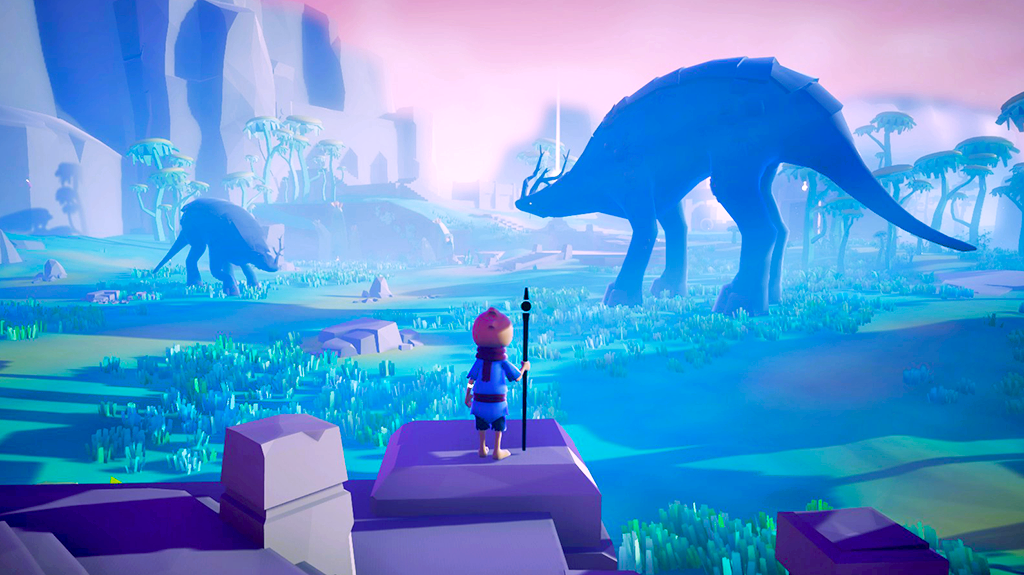 Take a magical journey through a lost civilisation in Omno. Run, dash and surf through an icy tundra, a sunburnt desert and a lush forest finding adorable creatures along the way. Omno is a beautiful, self-paced adventure that will no doubt delight fans of Journey.
The story in Omno is sparse, being told only with relics hidden throughout the levels. They tell the story of someone who appears to have taken the same pilgrimage as us. As we continue on our pilgrimage, we can piece together their thoughts snippet by snippet. Was their experience the same as ours? What did they think about this beautiful forgotten world?
Gameplay
Omno is a 3D platformer played over many different levels and chapters. Each chapter will have you running around searching for orbs and solving puzzles to reach them and then progress to the next area. You'll also be on the lookout for relics that provide the lore of the game. Unfortunately, these aren't shown on your map, so they can be easy to miss.
As the chapters progress, you will gain more abilities to use with your magic staff. These include dashing, surfing and more. They are introduced seamlessly to the game and are easy to use. I first got to try the surfing ability as part of the demo. Surfing is definitely the most fun way to get around, and even better, some of the creatures you come across will join you! I love when games have little features for no reason other than to make you smile.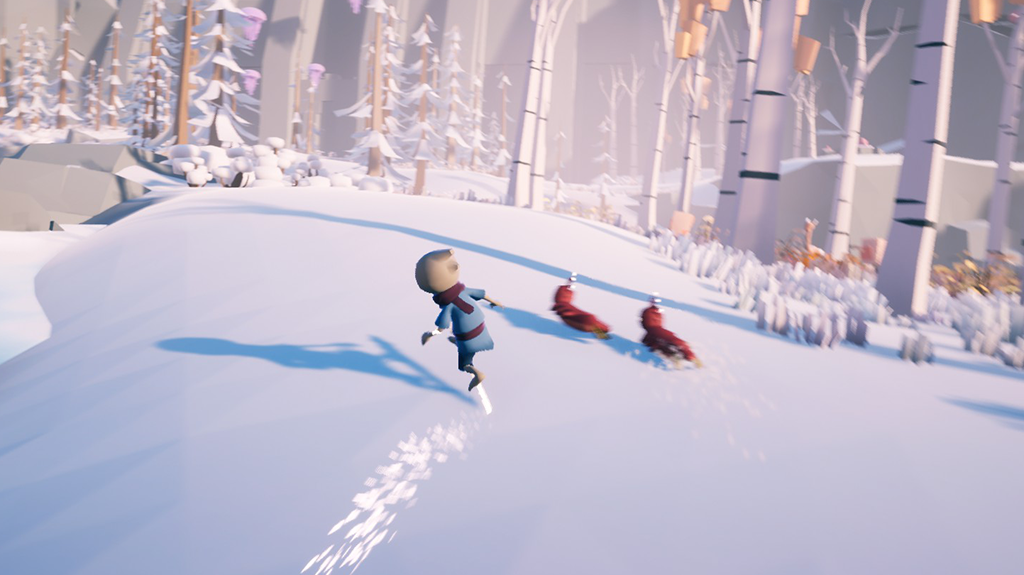 Usually, I start getting frustrated with 3D platformers as the camera and controls need to be just right for them to be enjoyable. I think Omno does this well. There were a few occasions where I would fail at a jump, but it never felt tedious. I did feel sorry for our character, though; he faceplanted many times! Fortunately, he doesn't take it too badly and gets up to continue with the adventure. The only sort of dying in the game is if you accidentally jump or surf off a cliff. I definitely didn't do that multiple times…
The only issue I had with Omni came after I had finished the game. In the main menu, chapters are listed, which implies we can go back and re-play areas. I wanted to go back and try to 100% areas and read all of the lore. Unfortunately, when you go back into the chapters, it wipes your game, and all the lore and creatures you've encountered are gone. I'm hoping this is something that can be fixed in a future update.
Art and sound design
The art is where Omno shines! It is a beautiful game with sweeping views over all of the environments. The sun gleams in the distance over curious creatures, both big and small. The minimal UI highlights this further, allowing the player to become fully immersed in the game. With beautiful cinematics and a 360 range camera, Omno makes it easy to enjoy the game's beauty. Unfortunately, there is no zoom, so I couldn't get super close to all of the adorable creatures to find.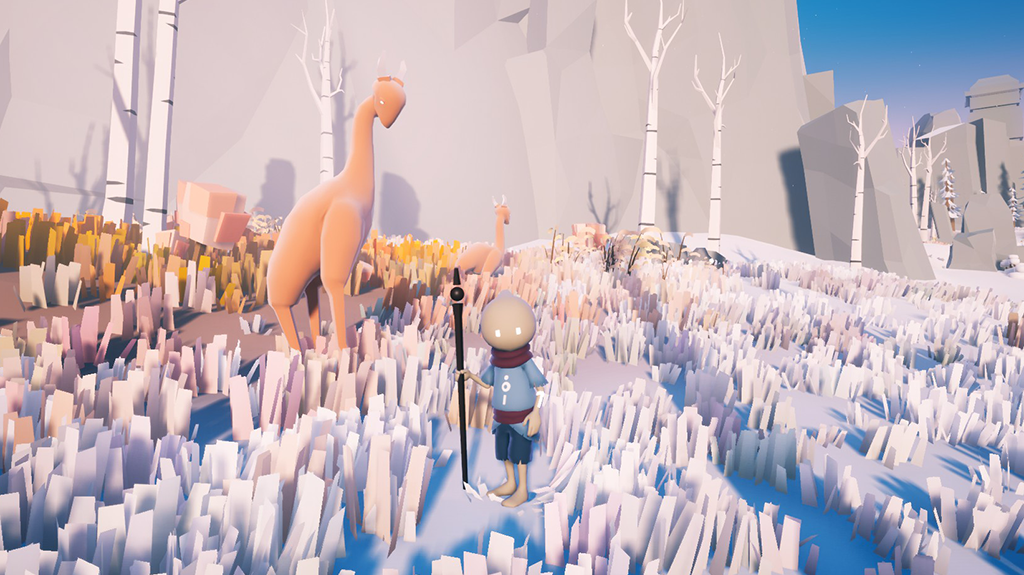 The soundtrack in Omno is fantastic! It elevates the peaceful, calming feeling of the game. It adds a little something special to an already special game. Composer Benedict Nichols did an excellent job at matching the feeling of the music with the feeling of the game. The sound effects are equally great, especially for the creatures you encounter. They have cute and funny noises to accompany their unique personalities. Though, one is very screechy, which is more scary than cute!
Final thoughts
I remember the feeling of delight I had when I first played the demo. I couldn't wait to play this calm and gorgeous self-paced game. Thankfully, the demo was an excellent representation of the full game, and I enjoyed every moment. I loved exploring this unknown world and finding out about its creatures and history, though I do wish the story had been a little less hidden away.
With its relaxing, combat-free gameplay and beautiful scenery, it was many things I love about games. Omno also shows the amazing things indies can accomplish, even when they're a team of one.
Want to know more?
Platforms: PC (Steam & Epic), Nintendo Switch, Playstation & Xbox inc. Gamepass
Genre: Adventure, exploration, combat-free, atmospheric
** Find The Strawberry received a free key for Omno from Future Friends Games. All opinions are my own **