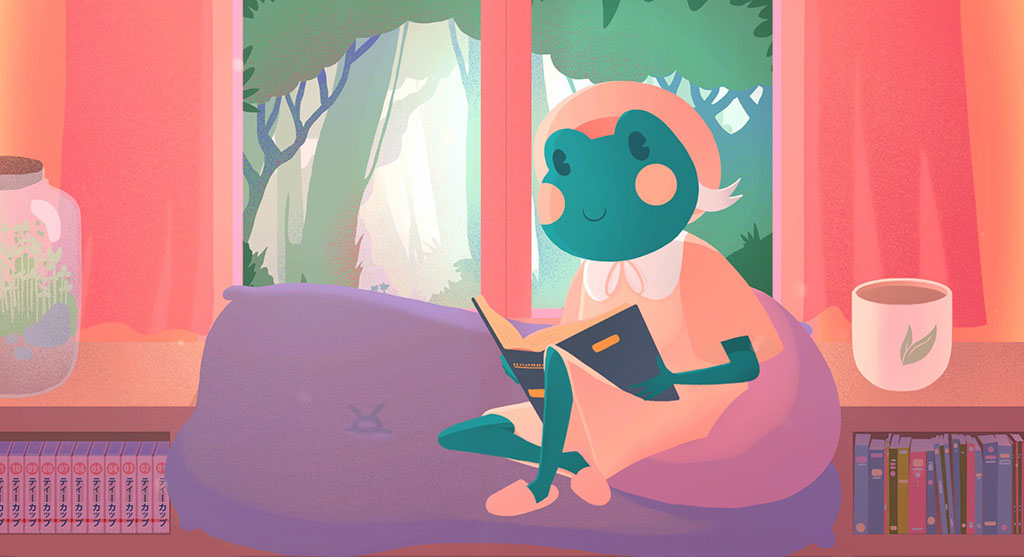 Awesome adventure demos from The BAE
It's time for the Big Adventure Event! Also known as The BAE (or #theBAE on Twitter), The Big Aventure event is run by Hitcents to celebrate all things adventure and point and click games. There are so many awesome devs involved, games to buy and demos to try. I had a great time with many demos, and my favourites are below.
Teacup
Website | Twitter | Wishlist/demo
Genre: Adventure, point and click, story-rich
Platforms: PC, console to be confirmed
Release date: 2021
Teacup is a shy, introverted frog who loves staying home to read books and drink tea. Teacup loves tea! Unfortunately, Teacup has realised she's all out of tea, and she has a big tea party planned tomorrow. There can't be a tea party without tea! So, Teacup ventures outside to find all the ingredients she needs, with her trusty tea encyclopedia in hand, to make great tea and a have a fabulous party.
Teacup is just so wholesome and adorable! The art is gorgeous, and the soundtrack has beautiful strings and piano that remind me of Florence, quite beautiful. The demo is quite short and involves finding one of the ingredients for Teacup's tea, but you get to meet a lovely bunch of characters along the way. If you're looking for a relaxing and uplifting demo to try out, I recommend starting with Teacup.
Tohu
Genres: Adventure, Point & click
Platforms: PC, PS4, Xbox, Nintendo Switch, Android, iOS
Release date: 28th January 2021
Everything is peaceful in the floating mechanical fish world of Tohu until a dark fiend comes to cause mischief. Play as a little girl who has a big secret; she can transform into a giant cubey robot, Cubus, to help with solving puzzles.
Tohu is an impressive looking Point & Click with incredible art and lovely sound design. Of Hollow Knight fame, Christopher Larkin is the composer for the game, so the end product is sure to sound amazing. Aside from how lovely it looks and sounds, Tohu is an intuitive point & click with decent puzzles. I never felt lost, at least in the demo, or unsure where to go next.
I'd definitely recommend giving the demo a try, and if you like the experience, you don't need to wait too long until the full release! Tohu is out on the 28th of January.
Crowns and Pawns: Kingdom of Deceit
Website | Twitter | Wishlist/demo
Genre: Adventure, point and click
Platforms: PC (Steam), Xbox and iOS
Release date: 2021
Family secrets, mystery and villains. The perfect setting for an adventure! In Crowns and Pawns, we play as Milda who one day receives a letter advising she is the heir to her grandfather's estate, and a lot more. Milda flies from Chicago to Europe to solve the long-buried family mysteries. There are historical influences in Crowns and Pawns, such as the Grand Duchy of Lithuania and KGB hidden around every corner.
I've been waiting for an opportunity to try Crowns and Pawns, so I'm glad the demo is available again! The demo starts in chapter 2 when Milda has just arrived at her grandfather's house, and things aren't quite right. The door is unlocked and open, and the place has been trashed, what happened here? Explore the house to find out!
Monorail Stories
Genre: Adventure, point and click, choices matter
Platforms: PC (Steam)
Release date: 2021
Follow Silvie, from the city of M, and Ahmal, from the city of L, as they go about their daily commute. They ride on the same monorail but at different times of the day, and going in opposite directions. They don't know it, but they're sharing the same story, and their choices may affect each other. Play as both Silvie and Ahmal while they take the monorail. Talk to other commuters, or not. The choice is up to you.
Monorail Stories is about celebrating the ordinary. It focuses on people and interactions rather than puzzles and combat. Monorail Stories is a game for pondering life, with a great pixel art style and cool indie soundtrack. Oh, and apparently there are cats… lots of them!
Aurora: The Lost Medallion Episode I
Website | Twitter | Wishlist/demo
Genre: Adventure, point and click
Platforms: PC (Steam)
Release date: Q1 2021
Aurora lives in a vast cave below an icy surface with the other children. They're cared for by AI until the war on the surface is over. They play a game called Vulture and Kids, they don't know who started it, but it's a big part of their history.  It reflects the war above between The Voices and The Vultures. Aurora always volunteers to be the Vulture because she likes to search. The same way she's searching for guidance on her origins. Aurora is the only one of the children without a Voice to guide her, so she needs to work it all out on her own.
The Aurora: The Lost Medallion Episode I demo reminds me of old school point and click games. Cool graphics and excellent voice acting with an exciting story and puzzles to solve. The demo doesn't tell much about Aurora's story, and why she doesn't have a guardian, it is more focused on their version of Hide and Seek and the other characters in the game. It is a nice introduction to how the game will work, though and I'm sure we'll learn more about Aurora in the full release.
Growbot
Website | Twitter | Wishlist/Demo
Genre: Adventure, point and click
Platforms: PC and iOS
Release date: 2021
Nara is training to become the captain of her space station home in Growbot. Unfortunately, it is being attacked by growing crystals, and she must help save her home! Growbot is set on a gorgeous biopunk space station with incredible art wherever you look. The demo is short but worth your time to get a feel of the game and enjoy the lovely art style. Plus Nara's brainapilla (a caterpillar brain that helps our growbots?) is super cute.
As mentioned, the demo is very short, so we don't know too much about the game just yet, but I'm looking forward to helping Nara save her home!
Going into the BAE, I didn't realise it was focused on point and clicks. I am very bad at point and clicks and usually find myself looking for a guide to get me through. Fortunately, most of these games are pretty straight forward, and the solutions to problems feel like the right solution. If you're into point and click adventure games, this event will be right up your alley, even if you're not there are some gorgeous, fun games to try.
Have you tried any of the demos or games featured at the event? Let me know which was your favourite in the comments below.