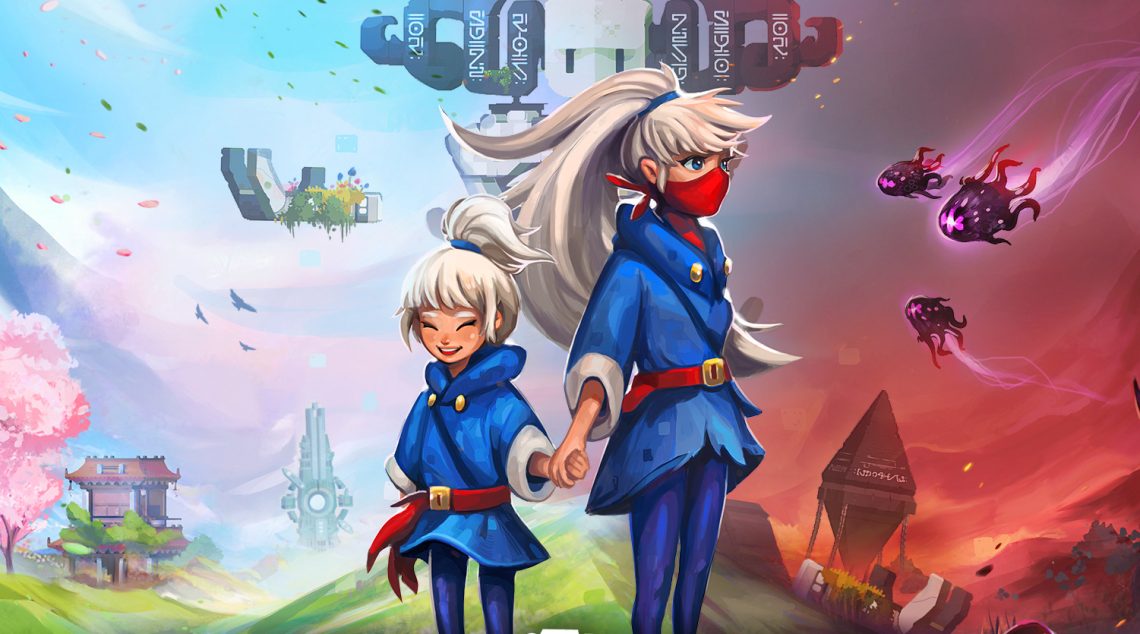 November indie game releases 2020
Is it just me, or has 2020 been a great year for indie game releases? There have been so many gems that choosing just a few for monthly release posts has been difficult each time. November is no exception. The only limitation now is getting the time to play them all! I will definitely be sinking some enjoyable hours into the November indie game releases, and I hope you do too.
YesterMorrow
Platforms: PC (Steam and GOG), Nintendo Switch, Xbox and PS4
Release date: 5th November 2020
Genre: 2D platformer, metroidvania, Adventure
Yui's world was turned upside down the day the shadows attacked. They stole the sun, kidnapped her family and changed her entire world. Journey between the present and the past to restore the world to harmony. Platform your way through the adventure in this 2D platformer with metroidvania elements, as well as using time to solve puzzles and, hopefully, save the world.
If a game has time travel elements, it's already a must-try for me. Throw in a 2D platformer, metroidvania elements and awesome art, and I'm absolutely going to play it. I have to admit, I was pretty excited to find out about the November release date on YesterMorrow, and am so glad the time to play it is finally here! Check back around the release date for a full review.
Zniw Adventure
Platforms: PC (Steam)
Release date: 6th November 2020
Genre: Point and Click, adventure
Zniw is on the hunt for the perfect gift for her mother's hatch day but gets lost along the way. Help Zniw find her way back home in this point and click adventure. Inspired by 90s cartoons, Zniws Adventure is a wholesome game with a focus on making learning fun. Meet, and learn about, over 20 dinosaurs and prehistoric creatures as Zniw takes her journey. With no gore, blood or bad language, Zniw's Adventure is a game everyone can enjoy.
My first thought when I saw Zniw Adventure was how much it looked like Terrible Thunderlizards, a silly cartoon of the 90s, so they did a great job in getting that 90s feel! I'm not the biggest fan of point and click games, but they usually have a great look and feel to them, as well as interesting stories. Zniw Adventure ticks all these boxes, so I am still going to give it a try, and I'm sure point and click fans out there will love it!
Bugsnax
Platforms: PC (Epic Games), PS4
Release date: 12th November 2020
Genre: Adventure
Talking 'bout Bugsnax! It's Bugsnax, where we are what we eat. Take an adventure to Snacktooth Island to learn more about the legendary bugsnax – half bug, half snack creatures – and then solve the mystery of what happened to explorer Elizabert Megafig. Elizabert invited you to the island, but when you arrive, she's nowhere to be found. Her followers are confused and hungry, so we better get feeding them.
After watching the trailer a few times, and getting that song stuck in my head, I am still not entirely sure what to expect with Bugsnax. I also have to wonder whether I'd eat creatures that change how I look. I don't think I want strawberry arms. Maybe I would if I tried it though. I will be taking this adventure to find Elizabert, so keep an eye out for the full review.
The Pathless
Platforms: PC (Epic Games), PS4, Apple Arcade
Release date: 12th November 2020
Genre: Action, adventure, open-world
From the creators of ABZÛ comes the gorgeous adventure game, The Pathless. Become the hunter, a master archer, and travel to a mysterious island to dispel a curse of darkness that grips the world. You don't have to do it alone though, as you will be joined by an eagle companion to help you fly through the world.
The world and character design in The Pathless are gorgeous! I really love the look of the game, as well as the soundtrack. And of course, having an eagle companion that can assist you in gliding is pretty awesome! I'm interested to see how the story goes for this master archer.
The Falconeer
Platforms: PC (Steam, GOG & Humble), Xbox
Release date: 10th November 2020
Genre: Action, adventure, RPG
Two bird games in one month! And they're both so beautiful. Ever wanted to fight in the air on a powerful warbird? Well, now you can! With many Falconeer classes, you can choose stats, weapons and warbirds to make the game your own. Combat appears to be the main focus in The Falconeer, but there is also exploration of the sky and the sea, as well as quests to complete.
The Falconeer is shaping up to be an in-depth RPG with the added bonus of beautiful art and sound design. Choose your warbird, get out in the world and discover the secrets of The Great Ursee!
The November indie game releases are a month of animals, exploration and adventure! Whether you enjoy combat or puzzles or in-depth exploration, there is something here for everyone! Did I miss a game you're looking forward to? Let me know in the comments and I'll check it out.