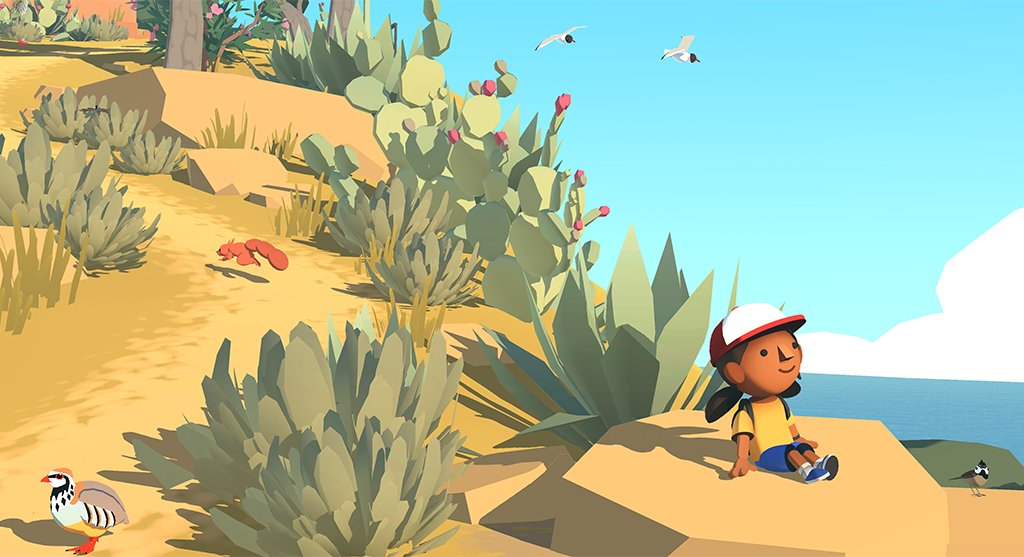 December indie game releases 2020
Every month I feel a bit like a broken record because I mention how impressive the line up of new releases is, and December is no different. December's indie game releases are looking excellent, with so many titles it was hard to decide which to feature in this post. I've been able to narrow it down to a superb selection. Get prepared for December 3rd!
Airborne Kingdom
Platforms: PC (Epic)
Release date: 17th December 2020
Genre: City builder, simulation, strategy, exploration
Legend has it that there was once an airborne kingdom that kept all the ground kingdoms united, but one day it vanished without a trace. The alliance of the regions slowly fell apart, and they became isolated. A tapestry is found with a prophecy about the airborne kingdom and, conveniently, instructions of how to recreate its glory.
Airborne Kingdom is a city builder in the sky. Fly through the lands to find isolated kingdoms and try to convince them to build an alliance to restore harmony in the world. I am fortunate enough to have been a playtester for Airborne Kingdom, and the game is looking fantastic. Even though the focus is in the air, I found myself transfixed with the ground. The tiles, different landscapes and kingdoms are all breathtaking. City builders are one of my favourite games to play, and this is no exception. I can't wait for the full release!
Alba: A Wildlife Adventure
Platforms: PC (Steam) and Apple Arcade
Release date: 11th December 2020
Genre: Adventure
Join Alba on a big adventure as she goes to visit her grandparents on Pinar del Mar. When she gets there, she realises that the island isn't in the best of shape and wants to help restore it to its former beauty. Clean up rubbish, fix fallen bridges and run around the island taking photos of animals and log them down in your notebook.
Alba is a beautiful game that focuses on small actions having a big impact. The developers also want it to be a relaxing game without any time constraints. Play Alba in your own way at your own pace. Explore the island, find animals and improve the lives of the people that live there.
Haven
Platforms: PC (Steam and Gog), PS5, Nintendo Switch and Xbox (including Game Pass)
Release date: 3rd December 2020
Genre: Adventure, RPG, story-rich
Yu and Kay have sacrificed everything they know and escaped to a lost planet. Gaining the freedom to do whatever they want. Explore the planet, find resources, and fix and upgrade the ship. Complete other, more relatable tasks like cooking meals, crafting and conversation. Haven can be played solo or as local co-op, with player 2 being able to jump in and out of the game whenever they like. In single-player mode, you will control both Yu and Kay in combat to keep them, and their relationship alive.
The demo for Haven has been available during various online events throughout the year and has been well received. The story, look and feel of the game, and excellent voice acting has people hyped for the full release.
Per Aspera
Platforms: PC (Steam)
Release date: 3rd December 2020
Genre: Simulation, city-builder
AMI, an Artificial Consciousness has been sent to Mars with the colossal task of terraforming the planet to prepare for human colonisation. AMI isn't the first attempt to this, and the surface of Mars is littered with debris from previous attempts. This time will be different though, it has to be, the lives of your human colonists are at stake.
Per Aspera looks incredible! I watched the trailer in awe at just how real the landscape of Mars looked. Using scientific theories proposed by real space agencies, Per Aspera gives us life-like conditions and challenges that could occur if we ever terraform Mars.
El Hijo – A Wild West Tale
Platforms: PC (Steam, Gog and Humble), Xbox One, Playstation 4, Nintendo Switch and Stadia
Release date: 3rd December 2020
Genre: Adventure, strategy
Set in a spaghetti-western style world, El Hijo is a stealth adventure game where you play as a 6-year-old El Hijo on a quest to find his mother. Their family farm was attacked by bandits and razed to the ground. El Hijo's mother leaves him with a group of monks in a monastery for his safety. El Hijo decides he doesn't like the monk life, so he escapes to find go find his mother.
Given that our protagonist is a 6-year-old boy, it makes sense that the game be combat and violence-free. Instead, El Hijo uses stealth and mischief to get past his enemies. Hopefully, he can tame the wild west and find his mother.
Orwell's Animal Farm
Platforms: PC (Steam and Humble)
Release date: 10th December 2020
Genre: Adventure, strategy
All animals are equal, but some animals are more equal than others. Based on the book of the same name, in Animal Farm the animals have overthrown the humans and are in charge of the farm, equally. Though equal rule rarely ever works and some of the pigs start to think they're a bit better than the other animals, and maybe they should be in charge of decision making.
Orwell's Animal Farm brings a well-known novel to a new medium. There is the classic story but the game also branches out with different options that were never part of the original. Decide how you want to play and see where your choices get you.
Call of the Sea
Platforms: PC (Steam, Gog and Humble), Xbox (including Game Pass)
Release date: 8th December 2020
Genre: Adventure, first-person, puzzle
Set in 1934, Call of the Sea sees Norah travelling to a lush island paradise in the South Pacific to find her husband. He went there to find a cure for her and then never came back. Initially, he sent letters and Norah lived vicariously through them, but then they stopped. What happened to him? What did he find?
The trailer for Call of the Sea is excellent. The vibrant surroundings, sweeping music and fantastic voice acting (Cissy Jones of Firewatch fame voices Norah) make me so curious about where the mystery will take us.
Nine Witches: Family Disruption
Platforms: PC (Steam and Gog), Xbox, PS4 and Nintendo Switch
Release date: 4th December 2020
Genre: Adventure, point and click, puzzle
It's 1944 and WWII is coming to an end. Strange occurrences are occurring in Sundäe, a Norweigian town, home to the delicious three-testicled salmon. The Third Reich's Okkulte-55 Division is particularly interested in this unusual salmon and they want to use the supernatural energy coming from Sundäe to try and win the war.
Nine Witches has a quirky and humorous storyline as well as its cast of oddball characters – and perhaps even nine witches? The reviews for the prologue/demo are mostly positive with many enjoying the weird characters and comedy components of the game. The art style gets a lot of thumbs up as well. The demo is still available to play if you're interested in taking a look before the full game releases.
Suzerain
Platforms: PC (Steam, Gog & Humble)
Release date: 4th December 2020
Genre: Adventure, strategy, simulation
What will your legacy be? It's 1954 and Sordland is emerging from a 20-year dictatorship. As President Anton Rayne it is up to you to bring your country out of recession, stop an oncoming war and bring peace to the people! Will you bring ruin or repair to Sordland, the choices are all yours.
Could this be the best political simulation game since Hidden Agenda in 1988? Demo reviews are saying it might be! Every decision has a consequence and it'll be up to you to make the right one. Will you be benevolent or corrupt in your term as president? What type of government will you form, and how will you treat your people and allies? All that, and more is up to you!
Phew, That's a lot of games! December 3rd is going to be a huge day for indie game releases! Are there any favourites in the list for you? Have I forgotten something you're super keen on playing? Let me know in the comments, and have fun gaming!