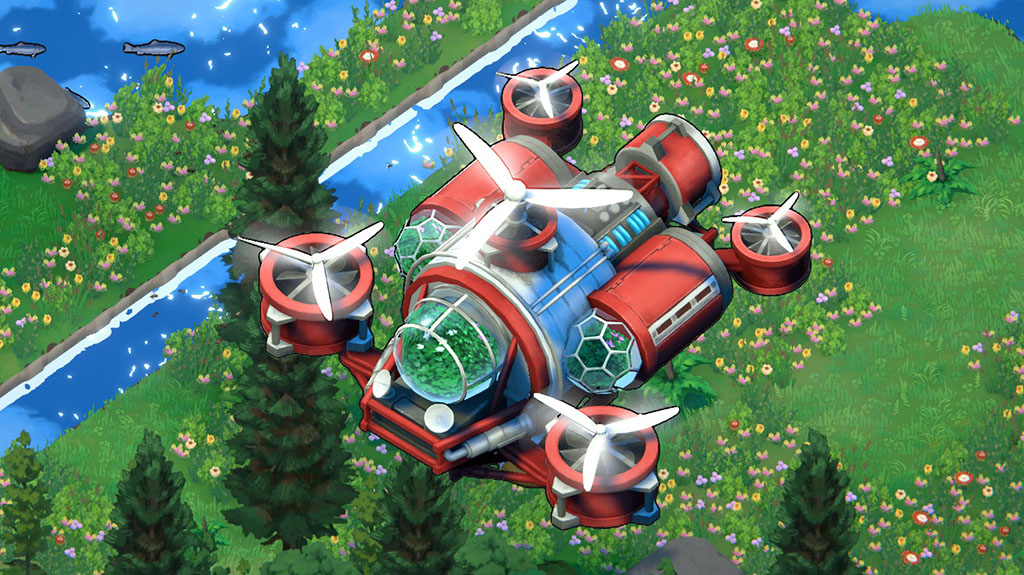 Nine excellent Steam Next Fest demos
The Steam Games Festival is here again, but it has been renamed Steam Next Fest to celebrate awesome upcoming indie games. As has been the case with previous Festivals, there are a vast amount of demos and events to enjoy. With over 100 demos, it can be challenging to know where to start, so I created a list of my favourites for the festival.
Terra Nil
Website | Twitter | Wishlist/demo
Genre: Simulation, city builder, puzzle
Platforms: PC (Steam)
Release date: 2022
Reclaim the wasteland in this reverse city builder. After touching down on barren, bare land, it's time to get to work and restore the wasteland back to life as a thriving ecosystem. Start with rejuvenating the soil, then progress to fixing the climate, and bringing back rivers and wildlife. What do you do once everything is thriving again? Well, then you find all the equipment you used, and pack up and leave. Leaving a pristine land behind.
I didn't expect to enjoy Terra Nil as much as I did, but I had an excellent time playing the demo. It was so satisfying to bring colour back to the land; Then, a storm rolled in, and it started to rain, and I was a little overcome with emotion. My little piece of land was thriving! The demo is a perfect introduction to the game by giving you a small piece of land to work on, then expanding as you learn the mechanics. Now I can't wait to see what else is to come in the full game, and I'll probably play through the demo a few times before the festival ends!
Selfloss
Website | Twitter | Wishlist/demo
Genre: Adventure, puzzle
Platforms: PC
Release date: 2021
The miasmas are spreading, and an unknown animal is crying out in pain. Use your magic staff, which has the power of light, to defeat the miasmas and free the trapped animal. You'll travel through choppy waters and uneven ground on your journey, looking for yellow beacons and dreamcatchers to signal safety. Perhaps, at the end of all this, you'll be able to perform a wake ceremony "selfloss" to heal your wounded soul.
Selfloss is so gorgeous! The graphics, soundtrack and character design are excellent at building the story and atmosphere. I felt the sorrow and grief of this kind old man and was keen to help him on his journey. There are a few puzzles to solve, but fortunately, they're all relatively straightforward and won't leave you raging before the end. A controller is definitely recommended, though, as I'm sure they're more difficult with keyboard and mouse. The Selfloss demo is gorgeous (I took a lot of screenshots) with a nice, satisfying ending. I'm looking forward to what else is to come in the full release!
Lost Nova
Genre: Adventure, exploration, crafting
Platforms: PC (Steam)
Release date: 2021
Mia is reluctantly taking a break from work to one of the best vacation planets in the universe when she crash lands on an unknown planet full of talking apples. The apples don't know much about planets or spaceships, but fortunately, a handy mechanic can help out. Gather resources and find parts (from the concerning number of other crashed spaceships on the planet) to get Mia's spaceship flying again.
Initially, I thought Lost Nova felt like Stardew Valley in space, but it's not a farming sim, and crafting is their only real similarity. Explore this new planet filled with gorgeous plants waiting to be zapped by Mia's laser. I felt a bit bad zapping all the trees and plants in sight, but they respawn pretty quickly, so it felt a little more ok. While exploration and crafting are great in the demo, I'm very intrigued by the mystery of this planet and why spaceships keep crashing there. I can't wait for the full release to find out.
Bear & Breakfast
Website | Twitter | Wishlist/demo
Genre: Simulation, management sim, resource management
Platforms: PC (Steam) & Nintendo Switch
Release date: 2021
Hank and his friends are lost in the forest when they come across a cabin with smoke coming out of the chimney. That can only mean one thing, humans! Not to be deterred, Hank takes a peek inside the cabin, loots a little and bumps into Barbara. For a human, Barbara doesn't seem too surprised to see a bear in her kitchen. In fact, she decides he should help her out in bringing her bed and breakfast back to its former glory. Help Barbara tidy up the place and breathe new life into what was once a thriving bed and breakfast, with a history. There's some mystery in these woods, and Hank intends to get to the bottom of it.
I've been keen to play Bear & Breakfast for so long! It's fantastic to finally jump into the best bear game of the year (probably). The demo is an excellent introduction to Hank and Barbara (though she seems to be exploiting his good nature a little) and how to run the bed and breakfast. Gather resources, meet the locals and craft some lovely items to make beautiful rooms. There's plenty to do in this demo, and with the mysterious story, I'm more intrigued than ever to see how it all unfolds.
Toem
Website | Twitter | Wishlist/demo
Genre: Adventure, puzzle, point & click
Platforms: PC (Steam)
Release date: 2021
It's a big day! We're off on an adventure to Toem! With a backpack, camera, walkman, and community card, we have everything we need to set off on this exciting black and white journey. Meet a slew of quirky characters, and help them out by taking photos or finding missing/hidden items. There are also a few ghosts to chat with.
Toem is such a delight! I'm pleasantly surprised. I wasn't really sure what to expect with the demo, but it's such a lovely time. The demo gives us a snippet of what the entire journey will be. I had so much fun meeting all the characters, helping them out and getting stamps to fill out my community card. Placing a star stamp on the card is so satisfying! If you're looking for a relaxing, adorable game, this is it!
Blueberry
Website | Twitter | Wishlist/demo
Genre: Adventure, story-rich, 2D platformer
Platforms: PC & Nintendo Switch
Release date: Unknown
Every night Blueberry wakes up in a panic, and she rushes out of bed to check her baby is still alive. She decides it's time to do something about it and takes a journey through her memories. Jump back into her childhood imagination filled with cookies, bubbles and toilet paper ladders to try and stitch her memories back together.
Blueberry is gorgeous! I instantly fell in love with the colours and character design. I want to make fan art of Blueberry; that's how pretty it is! Blueberry deals with issues of abandonment and addiction, so it may be a bit heavy for some people, but I enjoyed finding out more about Blueberry. It's also exciting to see a story-rich, combat-free game that is also a platformer! The floaty jumps and cute environments are an interesting way to tell the story.
Tracks of Thought
Website | Twitter | Wishlist/demo
Genre: Adventure, story-rich
Platforms: PC & Nintendo Switch
Release date: Unknown
Tracks of Thought takes you on a train journey of discovery. Chat with other passengers on the train, and make dialogue decisions on what you feel are the best answers. There are no wrong ones here. As you make decisions, the game builds an experience tailor-made to you, so it's best to be honest. You quickly begin to realise something weird going on in the train, so team up with your polar opposite and solve the mystery.
I'm not a huge fan of deck builders, but similar to Signs of the Sojourner, Tracks of Thought has you playing cards to make decisions and have discussions. Tailor your answers to your opponent for the best outcome, because if either of you run out of health, you both lose. Tracks of Thought is an exciting idea about learning more about yourself and others.
The Night is Grey
Website | Twitter | Wishlist/demo
Genre: Adventure, point & click
Platforms: PC & Nintendo Switch
Release date: December 2021
Graham is being chased by a pack of wolves when he stumbles on a house in the middle of nowhere. Hoping for some refuge, he walks up, but the door is ajar, and the only light is from the glow of the fire. Graham walks in to find a little girl pointing a gun at him. It's been a weird, rough night for Graham, and it looks like it's about to get even weirder.
The Night is Grey is your typical point and click filled with mystery. The game is gorgeous, but in true point and click style, it was occasionally challenging to work out what we could interact with. Some of us (me) aren't very good at point and click, so I'm hoping for an 'easy' mode in the full game with interactable items lighting up. If you're into point and click games full of intrigue, check out the demo because this game is probably for you!
Growing Up
Website | Twitter | Wishlist/demo
Genre: Life sim, choices matter, story-rich
Platforms: PC
Release date: 2021
Take a trip back to the 90s, starting with your birth! Growing Up is a life sim that takes you from birth to adulthood, and apparently even into future generations! The demo ranges from birth to six years old, and you'll play at home, pre-school and school. The gameplay reminds me a lot of Best Friend Forever, where you learn new skills and then schedule them. Depending on whether you do well or not depends on how much you master the skill. You never actually get to do those things with your character.
I was a bit surprised by the more passive gameplay in Growing Up. I expected something more Sims-like, but this feels like what an expanded Sims Character Creator could be. Learn and build skills and knowledge to make your character the best they can be and unleash them into the world. The demo gives a good idea of how to play the game, but as it ends when you turn six the options you choose don't really change anything. You're learning about writing, speaking and enjoying watching clouds, but later it seems like you'll have the option of moving in specific directions to make big life choices. Fans of visual novels and choices matter games will probably have a great time with this demo.
What did you think of my choices? There are so many games in the Steam Next Fest that it's difficult to narrow them down, but I think I found some promising titles and am excited to follow their progress. Did you have other favourites for the festival? Let me know in the comments!