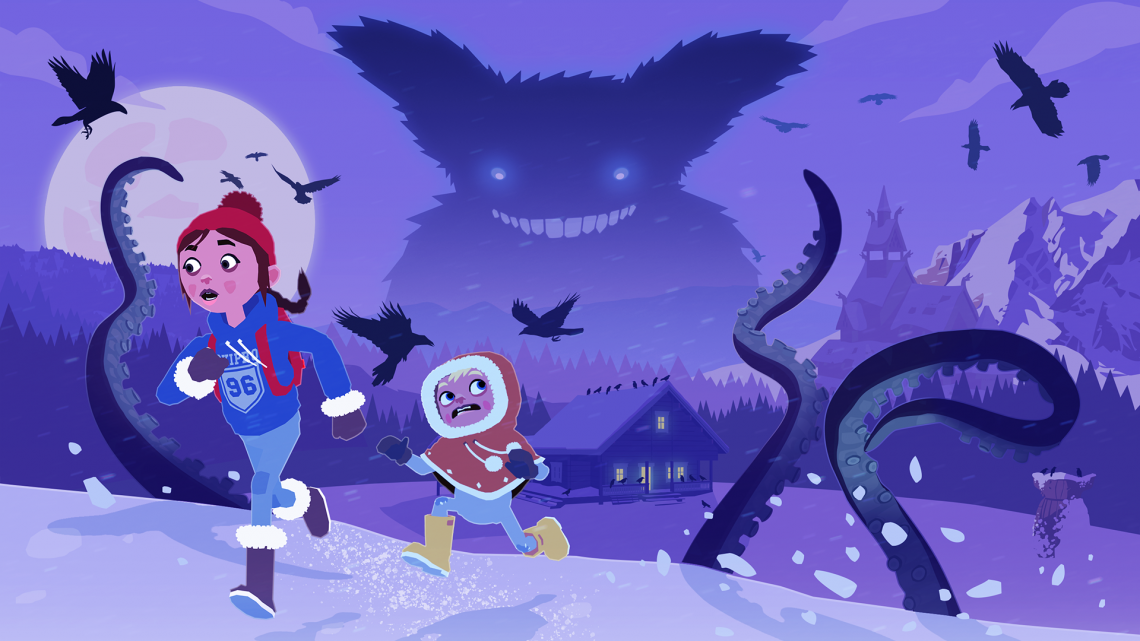 July 2020 Indie Game releases
There are fewer indie game releases for July than I was expecting, but that's ok. We need a bit of a breather after the craziness of June! The quality of games in July is excellent. I am looking forward to playing most of these games, and maybe I'll actually have time this month.
Here are my picks for indie game releases for July 2020:
Röki
Platforms: PC (Steam & Gog) and Nintendo Switch
Release date: 23rd July 2020
Genres: Adventure, puzzle
Inspired by Scandinavian folklore, Röki takes us deep into a fantastical world of monsters and magic. Follow Tove on a journey to save her family, as she encounters strange locations and stranger creatures. Röki is a non-violent game and relies on brainpower rather than muscle power to solve puzzles and unlock new pathways. This, combined with accessible controls make this a game that is truly for everyone.
Röki has been well received so far, and the demo was a great taste of what the full game will hold. I'm waiting, not too patiently, for the release day.
Liberated
Platforms: PC (Steam & Gog) and Nintendo Switch
Release date: 15th July 2020 (already released on Switch)
Genres: action-adventure, 2D sidescroller
Played through the panels of a comic book, Liberated tells the story of a dystopian civilization fighting to regain their rights. Surveillance in the name of safety has taken over but insurgents, Liberated plan to fight back and take over.
Liberated has an impressive demo and it hooked me in straight away. I mentioned it as part of the Steam Games Festival recommendations and am still quite excited for this one. Seamless transitions between cutscenes and gameplay as well as an Inside vibe make Liberated a must-try for me.
Creaks
Platforms: PC (Steam & Gog)
Release date: July 2020
Genres: Puzzle, adventure, 2D sidescroller
The ground starts shaking, light bulbs are breaking – and something rather unusual is happening right behind the walls of your very room. Creaks is another unusual release by Amanita Design, who gave us Botanicula, Chuchel, Machinarium, and the Samorost series. This week they dropped a surprise release date of some time in July.
As with all of their games, Creaks is a bit odd with awesome visuals and a lovely soundtrack. The difference here, though is that Creaks has more of a platformer feel. Not only will you solve puzzles using light and the environment, but jump around for a bit of platforming.
Ooblets
Platforms: PC (Epic) and Xbox
Release date: 15th July 2020 (early access)
Genres: Life sim
Ooblets is an adorable life sim filled with farming, collecting and dance battles. Grow your pals on your farm, level them up and let them dance! There are also clubs to be affiliated with and then distrust the clubs you didn't choose. Ooblets is a quirky looking game with a lot to like.
If you're into a game and don't care about the dev behind it then I'd recommend jumping into Ooblets. It looks like a fantastic game. I've supported the game for a long time, at one time supporting them on Patreon. I even supported them through the Epic debacle, but they have shown time and time again that they don't care about their supporters. I had planned on buying the game in early access, but the dev attitude has made me reconsider that.
The last straw was reading their FAQ and presskit today where they're only interested in talking to big publications and have no time for anyone else. It's understandable that, as a small team, they may not have time for everyone, but their attitude towards their community suggests it's more about arrogance and a sense of entitlement than lack of time. Given how important community is with indie games, it is disappointing to see that the Ooblets team don't appear to care about theirs.
July has an excellent selection of Indie game releases and I'm interested to play most of them. While I might skip Ooblets for now, it will be interesting to see how the game is received. Are there games I've missed? What are you looking forward to this month?