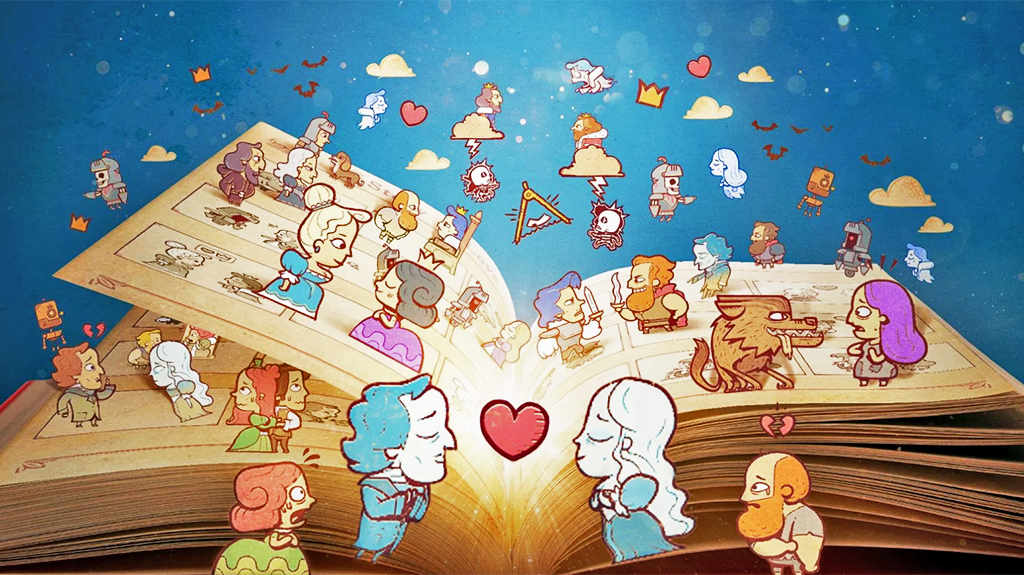 Steam Next Fest October 2021
Steam Next Fest is here for October, and you know what that means! A plethora of delightful demos to get stuck into. I decided to be a little pickier with my choices this time and give you my five favourite finds of the festival. Sprinkled with adventure, excellent stories to tell, and a lot of laughs, I hope you enjoy my choices for the festival.
Storyteller
Website | Twitter | Wishlist/demo
Genre: Interactive fiction, puzzle
Platforms: PC (Steam) and Nintendo Switch
Release date: Unknown
In Storyteller, you're the one that decides how the story ends. Start with a title, some characters and backgrounds and work out where to place everything to tell the story. Some are simple with two to three scenes, but they get more difficult as you progress, and there are multiple ways to tell the same story.
The Storyteller demo is so good! The stories you tell are short, but a lot of detail is packed into each. There is quite a lot of heartbreak and death, but also a lot of dark humour. I loved the jokes throughout. The demo is relatively short but really well done, and I'm excited about the full game.
Wytchwood
Website | Twitter | Wishlist/demo
Genre: Adventure, RPG, story-rich, exploration
Platforms: PC (Steam), Xbox, Playstation and Nintendo Switch
Release date: Unknown
After being rudely awoken by a goat chewing up your best spells, you stumble outside to investigate where that mischief-maker ran off to. When you find them, they claim to know you and are here to collect on the deal you made with them. Unfortunately, you have no idea who they are or what deal they're talking about. Awaken your witches eye, and collect ingredients to try and remember your past.
Wytchwood is so beautiful! The character designs and environments are so intricate and full of secrets that I definitely want to find. The demo gave me a good grasp of the game and made me want to know more about this mystery. The Steam page description suggests we're a grumpy old witch, casting judgement wherever she can, but I didn't get that from the demo. My experience was of a bright, unknown world just ready and waiting to be explored.
Once Upon a Jester
Website | Twitter | Wishlist/demo
Genre: Adventure, story-rich, choices-matter
Platforms: PC (Steam)
Release date: Unknown
Jester and Sok want nothing more than to make their own theatre show with no scripts, props or rehearsals. Complete improv for the masses! Then one day, a princess sees their show and tells them of the Royal Theatrical Spectacle – a theatre festival where only the best acts get picked. Jester is instantly hooked and will do anything it takes to qualify!
The Once Upon a Jester demo is good, silly fun! It opens to Jester and Sok practising their improv skills and doing their best not to giggle. The princess is hooked on their outlandish scenarios and wants them for the Royal Theatrical Spectacle, which means we need to put on a stage show! This involves finding out what the crowd likes and catering to their tastes. I love the randomness of the shows. You might sing, play your flute or, in my case, confess your love of the king! Will you help Jester and Sok on their quest?
Skábma – Snowfall
Website | Twitter | Wishlist/demo
Genre: Adventure, story-rich, atmospheric
Platforms: PC (Steam & Epic)
Release date: Unknown
After an accident at a nearby tar pit, an unknown infection starts spreading across the region. What began as a regular day for Áilu, a young Sámi, takes a turn after the accident, and now they must help their people. Use your enchanted drum, Goavddis, to find hidden elements in nature and solve the mystery of the infection before it's too late.
As soon as I saw the images and description for Skábma, I knew I had to try it! It looks fantastic, and I love that it is inspired by the Sámi people and their culture. The demo shows how beautiful this game will be, and I am interested in learning more about the stories and culture of the Sámi. The only issue I had with the demo was that it was a bit jittery, and the mouse sensitivity was quite high. If you're sensitive to motion sickness, like I am, it might cause some problems for you. Otherwise, it was a lovely experience, and I enjoyed exploring the Nordic beauty of the game.
Trading Time
Website | Twitter | Wishlist/demo
Genre: Adventure, exploration, 3D platformer
Platforms: PC (Steam), Xbox
Release date: Unknown
It's another peaceful night on the open sea with you and your plant. But hey, what was that? A meteor flying into that island? Let's check it out, plant friend! Once ashore, you find a comfy spot for you and your plant to rest for the night and decide to explore in the morning, but when morning comes, your plant is gone! It's time to investigate and get your plant back!
I was pretty hooked on playing the demo as soon as I saw that we would be rescuing a plant. It was neat seeing something that is usually discarded in a situation like this become the priority. I had fun solving the mystery of my missing plant in the Trading Time prologue, but some things need more work. There is no dialogue in the game, and the characters communication is done through pictures. I found them a little difficult to interpret to work out what I needed to do. Hopefully, this will be refined over time and work better in the full release. This is expected with demos, though, and it's still worth playing if you want to experience the game now.
It's fantastic to see demos coming back in style and being supported by Steam! I hadn't heard of half of these games before the festival, and now they're definitely wishlisted! I look forward to seeing how they progress over the following months and years, and I can't wait to try the full release versions!