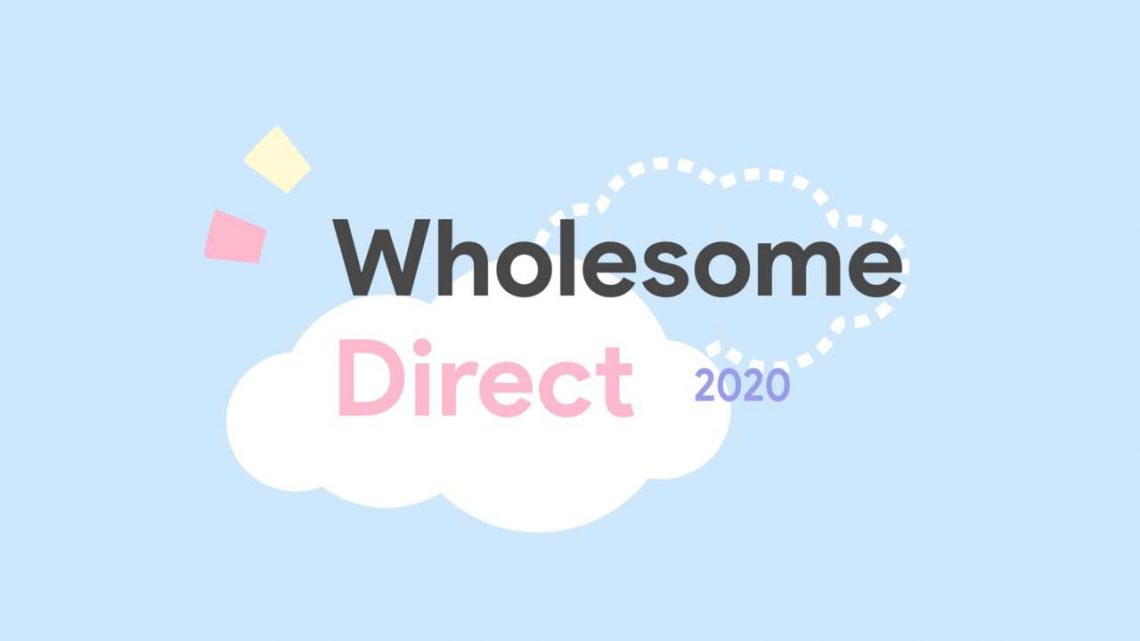 Wholesome Direct list of games
Today was the very first Wholesome Direct by Wholesome Games! Wholesome Direct is a game showcase of, you guessed it, wholesome games.
Growing up, I enjoyed playing games, mostly sim builder games, but as I grew up, online games became more popular and the reign of the FPS and MMO began. I wondered if this was the end of my game playing days because neither was something I was interested in. It was only in recent years that I got back into games because I found the vast world of indie games. It's been amazing to find so many games I've been interested in, as well as awesome communities.
I was excited when I heard about Wholesome Direct and watched it as soon as I woke up this morning (it was live at 3 am in my part of the world) and it was incredible seeing this combination of games that I would never have imagined when I was younger.
There were so many games listed that I wanted to find out about, so I thought I'd provide an easy list of all the games that you can sort and filter as you like. Let me know if you'd like any more columns added.
Here is the list for Wholesome Direct 2021
| Game Name | Description | Release date | Twitter |
| --- | --- | --- | --- |
| Button City | Button City is a game about a group of friends trying everything they can think of to save their local arcade from being shut down. | 2020 | buttoncity |
| Errand Boy | Errand Boy is a fantastical action-adventure game told through 5 interweaving adventures and heroes with one purpose: save the town. | 2021 | treegames |
| Ooblets | Ooblets is a farming, creature collection, and town life game where you explore the world of Oob, participate in dance battles, manage a farm, customize your house and character, and collect ooblet friends. | 2020 | ooblets |
| Kind Words | Kind Words (lo fi chill beats to write to) is a game about writing nice letters to real people. Write and receive encouraging letters in a cozy room. | Out now | popcannibal |
| Snacko | Snacko stars former big city kitties Momo and Mikan in a new life on a seemingly deserted island. Unravel its mysteries while you rebuild a community, farm, fish, and explore the island and beyond. | 2021 | snackodev |
| Chicory | In Chicory, you're a dog wielding a magic brush! Use your painting powers to explore, solve puzzles, and make friends in this adventure game. | TBD | chicory |
| The Spirit and the Mouse | After a fateful encounter with a mysterious Spirit, courageous little mouse Lila resolves to help troubled villagers the best she can in The Spirit and the Mouse. | 2021 | SpiritAndMouse |
| Spiritfarer | Spiritfarer is a cozy management game about dying. As ferry-master to the deceased, build a boat to explore the world, care for your spirit friends, and guide them across mystical seas before finally releasing them into the afterlife. | 2020 | ThunderLotus |
| Sayri: The Beginning | The best recipe for survival is friendship, as an adorable alien teams up with local creatures to find their way in Sayri: The Beginning. Use teamwork and telekinetic abilities to solve puzzles and overcome obstacles. | 2020 | sayriadventure |
| Mondo Museum | Do you have what it takes to design and curate the world's greatest museum? Fill your exhibit halls with extraordinary artifacts, hire staff to keep things running smoothly, and do everything you can to expand your visitors' horizons in Mondo Museum. | 2020 | KitfoxGames |
| Bird Alone | Become best friends with a lonely bird figuring out what life is all about, and face the heaviness of growing up together in Bird Alone. | 2020 | georgebatch |
| Little Witch in the Woods | Little Witch in the Woods is a heartwarming life sim about Ellie, a witch's apprentice. Make potions, study magical creatures, and help the local townspeople in Ellie's journey to become a full-fledged witch. | 2021 | SunnySideUp_DEV |
| Toem | Travel by bus and take in all the sights on your trip to see the magical phenomenon called TOEM. Capture special moments with your camera and share them with the world! | 2021 | SWMGames |
| Tokotoko: Hako & Friends | See your drawings come to life in Tokotoko: Hako & Friends. In this all new story mode, you'll solve puzzles with real drawings to help Hako find the other Tokotokos and become an artist. | Out Now | tokotokogame_ |
| When the Past was Around | When the Past was Around is a point-and-click adventure game about love, loss, and all the joy and pain in between. | 2020 | MojikenStudio |
| A Space For The Unbound | A Space For The Unbound tells the story of two high school sweethearts in 1990s Indonesia investigating the supernatural forces threatening their small town. | 2021 | ASFTUgame |
| Book of Travels | Book of Travels is an intricate fairytale world where you can roleplay without the restraints of linear quests and plotlines, forming friendships and overcoming obstacles as you go. | 2020 | MightAndDelight |
| Garden Story | Traverse and rebuild a broken island, protect its inhabitants, and make friends with a fruity cast of characters in Garden Story. | 2020 | gardenstorygame |
| Dépanneur Nocturne | Explore an unusual corner store late at night to find the perfect gift for your girlfriend in Dépanneur Nocturne. | Out Now | koopmode |
| Calico | Calico is a community simulation game that gives you an important and adorable task: rebuild the town's cat café and fill it with cute and cuddly creatures. | 2020 | CalicoGame |
| Rainy Season | Rainy Season is the story of an ordinary family spending time at home during a storm. Listen to the rain, spend time with your family, and see for yourself how an ordinary day can lead to extraordinary moments. | 2020 | Inasa_Fujio |
| Wayward Strand | Wayward Strand is a heartfelt interactive story. Play as teenage journalist Casey Beaumaris as she visits an airborne hospital for the first time. | 2020 | WaywardStrand |
| Hoa | Hoa is a platforming adventure game with hand-painted art inspired by Studio Ghibli. Explore meticulously crafted scenery, make friends with magical creatures, and collect memory fragments as you piece together the long lost history of Hoa. | 2020 | hoathegame |
| KeyWe | KeyWe is a cute, co-op postal puzzler starring Jeff and Debra, two small kiwi birds working in a whimsical post office. | 2021 | KeyWeGame |
| Tracks of Thought | Tracks of Thought is a self-exploration game that helps you better understand yourself and others. Discover where you belong on a train bound for an unknown destination. | 2022 | TracksOfThought |
| Melon Journey 2 | Melon Journey 2 is a story-exploration game about revisiting a town full of adorable animals with eccentric personalities. Beneath its cute surface lies a tale of crime and corruption centered around... melons | 2020 | froachclub |
| Weaving Tides | Dive into a magical woven world on the back of your own carpet dragon in Weaving Tides! Explore the textile landscape, solve puzzles, and unravel the great mysteries of a long-forgotten past. | 2020 | followfeathers |
| A Fold Apart | A Fold Apart is a puzzle game that explores the emotional rollercoaster of a long-distance relationship in a world of folding paper. | Out Now | lrgthunder |
| SkateBIRD | Grind on bendy straws, kick-flip over staplers, and carve killer lines through cardboard and sticky tape parks in SkateBIRD. Above all else, skate birds try their best! | 2021 | glassbottommeg |
| Unpacking | Unpacking is a zen puzzle game about the familiar experience of pulling possessions out of boxes and fitting them into a new home. Create a satisfying living space while learning clues about the life you're unpacking. | 2021 | UnpackingALife |
| Sylvan Meadows | Sylvan Meadows is a village simulation game with RPG elements. Keep a little outpost running while bonding with its inhabitants. Make friends, solve problems, and take a nap in the meadow when you're done. | TBD | paranoodles |
| Haven | Play as two lovers settling on an unknown world in Haven. Survive together, glide over the plains, camp, restore the planet, and fight only if you have to. | 2020 | thegamebakers |
| Tracks - The Train Set Game | Create colorful railway systems, decorate beautiful towns, transport commuting passengers, and even ride your train in first-person in Tracks - The Train Set Game. | Out Now | tracks_game |
| Frogsong | Frogsong is a heartfelt adventure where it's okay to be small. You'll make new friends, explore beautiful environments, and embark on a journey to find your place in the world. | 2022 | frogsonggame |
| Later Daters | In Later Daters you're the newest resident at Ye OLDE retirement community, where you'll meet a cast of seniors who are all excited to meet you. | Out Now | bloom_digital_ |
| Cloudzy! | Clouzy! is a farming game about filling the world with cute clouds and positive emotions. | 2021 | tinymoonteam |
| Creature Resort | Creature Resort is a resort management game where your guests are creatures from all over a colorful and mysterious fantasy world. | TBD | creatureresort |
| Pushy and Pully in Blockland | Pushy and Pully in Blockland is a colorful co-op arcade game that will take you and a friend through ever-challenging levels. Recover your spaceship and escape Blockland. | Out now | ResistanceStdio |
| Onsen Master | Onsen Master is a hot spring management game. Players must revitalize various onsens across the fantasy island of Izajima. | 2020 | onsenmastergame |
| Old Friends Dog Sanctuary | Welcome to Old Friends Dog Sanctuary, where love never grows old! A game about friendship for people who love dogs. | 2020 | playoldfriends |
| Critter Cove | Become captain of your own ship crewed by fun, quirky characters in Critter Cove: a tropical seafaring adventure. | 2021 | crittercovegame |
| Roots of Pacha | Roots of Pacha is a co-op farming and life sim game set in the Stone Age. Carve your path in the earliest days of civilization. | 2021 | rootsofpacha |
| A Monster's Expedition | A Monster's Expedition is an adorable and relaxing open world puzzle adventure for monsters who love to learn about humans! | 2020 | Draknek |
| The Other Side | Navigate an intricate world filled with mind-bending yet fun puzzles, find clues about the identities of our spirit friends, and help them reach The Other Side. | 2020 | FlorianVltmn |
| BattleCakes | Get ready to explore Pasteleria, an enchanted kingdom that's jam-packed full of magic and mystery in BattleCakes, all-ages snack-sized RPG. | 2021 | volcanobean |
| Alchemic Cutie | Alchemic Cutie is a relaxing RPG set on beautiful Wimba Island. While taming wild jellies, you'll meet villagers, enter jelly competitions and uncover the secrets of the island. | 2020 | alchemiccutie |
| Pekoe | Pekoe is a tea-making simulation game about a countryside town of cats and tea houses. | TBD | kittencupstudio |
| Ollie-Oop | Ollie-Oop is a game about a skateboarding dog who goes on an adventure to find his friend Reggie. | 2021 | ollieoopgame |
| To The Rescue! | Take care of unique dogs and find the right homes for as many of them as you can in To The Rescue!, a dog shelter simulator. | 2021 | totherescuegame |
| Rolling Hills | Rolling Hills is a life sim about opening your own sushi restaurant in a cozy village. Assume the "roll" of a budding sushi chef as you work to improve the lives of your neighbors and make new friends. | TBD | rollinghills |
| Himig | Himig is a game about experiencing calm, everyday moments while making memories and finding joy in the little things. | 2020 | onionblaze |
| Orange Island | Orange Island is an authentic 8-bit action-adventure game with heart. | 2020 | orangeislandok |
| Misc. | Misc. is an adventure game starring Buddy and BagBoy, two tiny beings made of miscellaneous items. | 2020 | FluminusStudio |