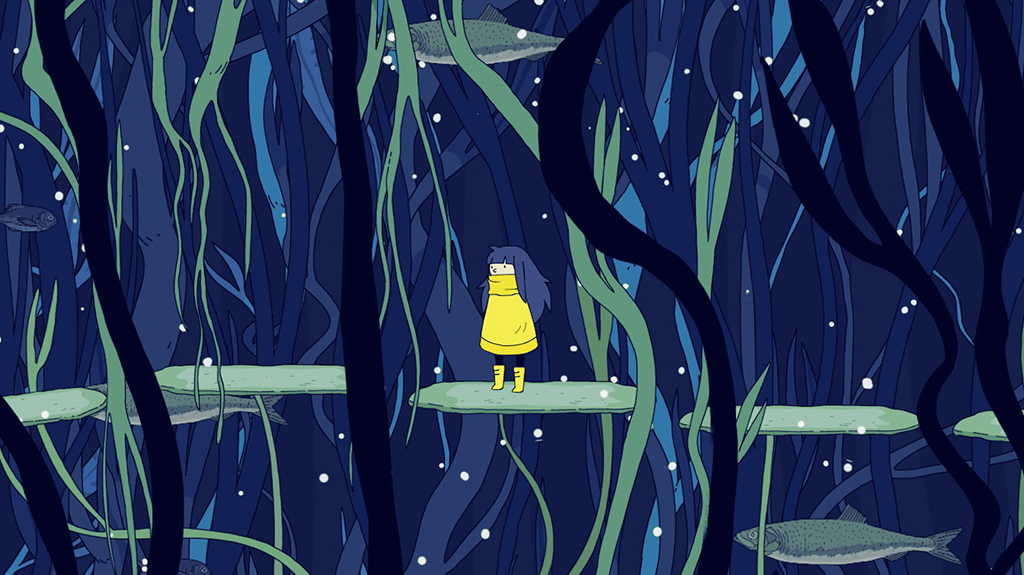 June 2021 indie game releases – part 2
We're already at the end of June, and what a chaotic month it was for indie game releases! With E3 week and Steam Next Fest, there were game releases and demos to try everywhere! It was almost more than this game writer could keep up with. Fortunately, the Wholesome Direct was a nice place to find some calm from the storm. There were quite a few sneaky surprise attack releases in the last few weeks, which meant they weren't included in Part 1, but I'll be covering them here.
Minute of Islands
Genre: Adventure, 2D platformer, puzzle platformer, puzzle
Platforms: PC (Steam, Gog & Humble), Nintendo Switch, PlayStation, Xbox
Release date: Out now!
Mo sleeps underground, comforted by the hum and clunk of the machines that keep them all alive. Until one day, they stop. There is silence, and that is never good in her world. Wielding the powerful Omni switch, Mo must go up to the surface to restore power and the air purifiers that keep out the poison. Journey through the island and relive Mo's memories on her quest to get oxygen flowing underground again.
From the moment I tried the Minute of Islands demo, I knew I had to play this game! A gorgeous game, with puzzle and platforming elements with an exciting story, what's not to like? I am also interested in finding out why these other people still live on the surface, and how the world came to be the way it is. Hopefully, with the power of the Omni switch, Mo can improve the lives of everyone.
Overboard!
Genre: Adventure, interactive fiction, puzzle, detective
Platforms: PC (Steam & Gog), Nintendo Switch, iOS
Release date: Out now!
Stuck out on the S.S. Hook, eight hours out of New York, and your husband has been murdered! We're so devastated, right? It's time to avenge his death! Well, that's what you want everyone else to believe because you're the murderer. It's time to do anything it takes to be free. Lie, cheat, steal and blackmail your way out of it. Only one question remains, can you get away with murder?
With no warning or inkling (get it?) of a release, Inkle surprised us with Overboard! earlier in the month. I am looking forward to seeing how the multiple endings play out and whether I am cunning, charming and deceptive enough to get away with it! I'll have a review up in the coming weeks to let you know my thoughts on the game.
Alekon
Genre: Adventure, photo-taking, collectathon
Platforms: PC (Steam)
Release date: Out now!
Alekon is busy trying to cleanse dullness from the world, using creativity. Delve into the Realm of Fiction, a world between reality and dreams, and take photos of Fictions to bring colour and creativity back to the world. Alekon is filled with Fictions to photograph, worlds to explore and minigames to complete in a quest to a brighter mind.
I initially came across Alekon during a Steam Festival earlier this year and had a great time playing the demo. Alekon is bright and delightful, with a range of unique and quirky characters (Fictions) to meet. Not only was it fun to roam around the realm of fiction, but each fiction has its own minigame to enjoy. Want to see more? I made a first-look video to check out on YouTube.
Back when I played the demo, I provided some feedback to the team, and it was fantastic to see that they implemented some changes to improve the game. They also have an expansive 'comfort' settings menu that helps with game induced motion sickness. Because of this, I was able to play the game for hours without issue! Improvements like this improve the experience, and it's great to see their passion and desire to make it as fun as possible for the player.
Luna's Fishing Garden
Genre: Simulation, exploration, relaxing
Platforms: PC (Steam & Epic)
Release date: Out now!
Cassie wakes up on an island, and the inhabitants aren't used to seeing humans. Luna was expecting her, though, and she sets Cassie some tasks to clean up the island and get farming. Meet some other inhabitants along the way and learn how to fish and plant sees and trees.
Luna's Fishing Garden is such a charming game! I loved the demo, which I knew I would because, well, capybaras! I'll play pretty much anything with a capybara. I am keen to start helping Luna in making the biggest and best garden ever! And make my capybara pals happy.
Beasts of Maravilla Island
Genre: Photo-taking, exploration, collectathon, puzzle
Platforms: PC (Steam & Epic), Nintendo Switch. Coming soon to Playstation and Xbox.
Release date: Out now!
The protective magic of Maravilla Island is waning because people don't believe in it! Armed with her grandfather's journal of Maravilla, Marina is on an adventure to restore the magic to Maravilla Island. Explore, climb and solve puzzles to capture captivating photos of magnificent creatures, and be sure to get the best shot to share the islands magic with the world.
Photo-taking games are coming back in style (two released this month!), and I'm enjoying this laid back way of playing a game. I first came across Beasts of Maravilla during their Kickstarter campaign, and I was captivated in my first moments of the demo. Filled with lush environments and gorgeous creatures to admire, I want to find them all just to see how glorious they all are. I will have a full review up on the site in the future.
What an awesome assortment of games, especially if you're keen on collectathons or intrigue. I like the look of all of these so much that every game featured will have a review up on the site over the coming weeks. Want to make sure you see them all? Use your email to subscribe (over in the menu) to be notified when a new post goes up.