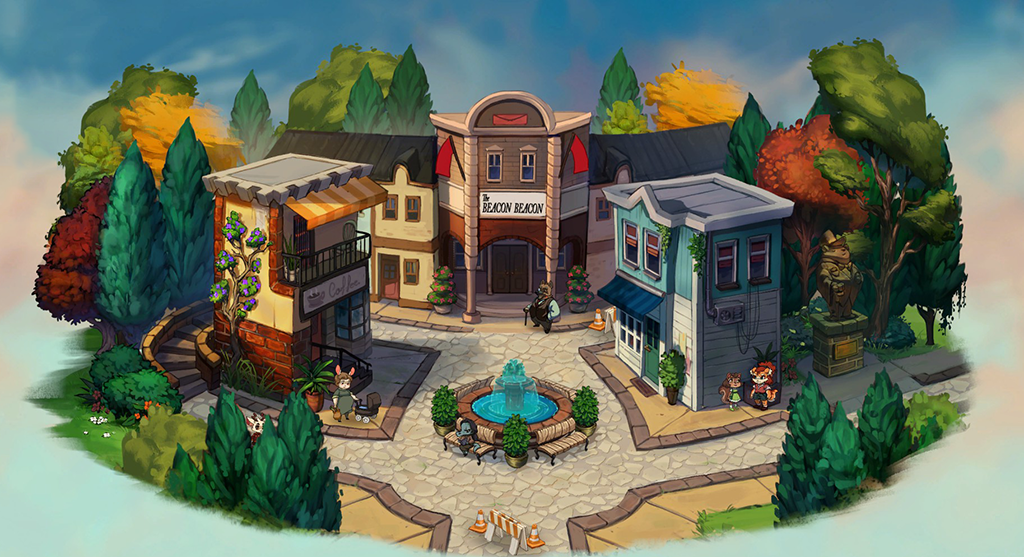 Super Steam Game Festival 2021 Demos
The Steam Game Festival is here for 2021, and there are more than 500 demos included! Unfortunately, I don't have enough clones (or any) to get through anywhere near that many demos, and I imagine you don't either. I have been able to play quite a few, though, and there's still time to play even more! Here are my choices of where to start the festival.
Beacon Pines
Website | Twitter | Wishlist/demo
Genre: Adventure, choices matter
Platforms: PC (Steam & itch.io) and Nintendo Switch
Release date: Sept 2021
Beacon Pines starts in the pages of a book, but this is no ordinary book for no one knows the ending yet, not even the author. We are both reader and player, and we can change how it ends. Beacon Pines is a choose your own adventure style game, but not only can you make choices that alter the outcome of the story, but you can also go back and change the choice later with the use of charms.
Playing as Luka, we can collect charms as we run around town, each with a type and a word. The word changes the story and possibly the outcome. Does it look like the end for Luka? Well, go back and change a decision so that it's not!
I wasn't sure what to expect when going into Beacon Pines' demo. I hadn't heard too much about the game, but the art style was more than enough to pique my interest. The demo is excellent! The world and character design are incredible, and I was engrossed by the story the whole way through. Throw in the charm system, and it's a crazy and creepy adventure. Beacon Pines currently has an active Kickstarter campaign, so if you like the demo, be sure to check that out too!
Minute of Islands
Website | Twitter | Wishlist/demo
Genre: Adventure, 2D platformer, puzzle platformer
Platforms: PC (Steam & Gog), PS4, Xbox, Nintendo Switch
Release date: 18th March 2021
Mo sleeps underground, comforted by the hum and clunk of the machines that keep them all alive. Until one day, they stop. There is silence, and that is never good in her world. Wielding the powerful Omni switch, Mo must go up to the surface to restore power and the air purifiers that keep out the poison. Journey through the island and relive Mo's memories on her quest to get oxygen flowing underground again.
I've wanted to play Minute of Islands since the first time I saw it, but I hadn't had the chance to play the demo until this Steam Festival. The demo does an excellent job at showcasing the puzzle platforming elements of the game and the sad story of the world. I was so intent on learning the story and solving the quests that I sometimes forgot it was a platformer! Fortunately, I remembered and was able to find my way through to the end. This is a great demo and has made me even more excited for the full release on the 18th of March.
Dorfromantik
Genre: Strategy, puzzle, relaxing, casual, simulation
Platforms: PC (Steam)
Release date: 25th March 2021
Dorfromantik, or village romance in English, is a lovely village builder game, that uses hex tiles to expand the village. With a limited number of tiles at your disposal, correct placement is of the utmost importance. Fortunately, you can complete tasks (place 50 trees, four river spots etc.) to gain more tiles and build a bigger village. With charming graphics and a lovely soundtrack, Dorfromantik is a relaxing and addictive game.
I wrote about Dorfromantik previously and mentioned how taken I was with the game. Even though the demo has limits on tiles you can place, I played it over and over. Since that post, they've updated the demo and added some background music and improved the tutorial immensely. It's even better than before! Dorfromantik is another game releasing in March, and I can't wait for it!
Alekon
Genre: Collectathon, casual, relaxing
Platforms: PC (Steam)
Release date: Q2 2021
Alekon is busy trying to cleanse dullness from the world with creativity. Delve into the Realm of Fiction, a world between reality and dreams, and take photos of Fictions to bring colour and creativity back to the world. Alekon is filled with Fictions to photograph, worlds to explore and minigames to complete in a quest to a brighter mind.
The demo for Alekon is huge! There are so many Fictions to find and quests to complete. I played for more than an hour and still didn't finish, but I had completed a few quests, minigames and captured lots of fictions! It took me longer than it should have to realise I could throw projectiles (doughnuts) at Fictions to get a different reaction. Some good (doughnut flipping) and some not so good (threats to call lawyers).
For something that seems like a simple concept, there is heaps of content in Alekon, and it is a fun way to spend an afternoon.
Luna's Fishing Garden
Website | Twitter | Wishlist/demo
Genre: Simulation, 2D platformer, casual, collectathon
Platforms: PC (Steam)
Release date: 3rd March 2021
Cassie wakes up on an island, and the inhabitants aren't used to seeing humans. Luna was expecting her, though, and she sets Cassie some tasks to clean up the island and get farming. Meet some other inhabitants along the way and learn how to fish and plant sees and trees.
Luna's Fishing Garden is such a charming game! I loved the demo, though it wanted to end before I built a capybara house. That wasn't going to happen. I had to see some capybara in the demo before I was finished. The demo has two or three quests before ending, but you can continue if you like and buy some additional items or upgrades. If you enjoy a cute farm sim style game, this is a great demo to check out, with the full game just around the corner on the 3rd of March!
Floppy Knights
Website | Twitter | Wishlist/demo
Genre: Strategy, deck-builder
Platforms: PC (Steam)
Release date: Unknown
Phoebe's parents are pushing her to get a job, but she doesn't want to work a boring office job or work with her Mum as a blacksmith. Phoebe is super techy and loves to tinker and create. She even made her friend Carlton, the robot! Carlton can use floppy disks with a new upgrade and turn them into floppy knights! They can do just about any task you can think of, and Phoebe has a plan for them to make her some cash!
I don't usually get into deck-building games, but Floppy Knights is so cute that I had to try it! In the demo, you play through a few levels to learn how the battles work. Start with Captain Thistle, who has high HP, but you lose the entire battle if he dies. As you win, you gain more cards to build up your deck; These include units and move type cards. Each level has a different objective and secondary objective with extra rewards if you do both.
Floppy Knights was a nice introduction to deck building and didn't make me feel overwhelmed as a novice. I'm not sure how it would go for someone who is really into deck builders, though I imagine it will get substantially more difficult in the full release.
Potion Craft: Alchemist Simulator
Genre: Simulation
Platforms: PC (Steam)
Release date: 2021
Pick herbs and mushrooms from your garden, turn them into potions using your alchemist map, then sell them to the townsfolk for a pretty penny. Potion Craft is an alchemy simulator where you need to mix herbs and mushrooms to create new potions. This sounds simple enough, except each ingredient has a different trail it takes on your map, and you need to identify which ones are the best ones to get to an unidentified potion.
Potion Craft is an interesting combination of simulation and puzzle game. Initially, you might use ten herbs to get to a particular potion, but as you find and buy more herbs and mushrooms, there might be an easier path to them. Once you have a recipe you're happy with, you can save it to your recipe book for easy one-click creation, rather than having to go through the mapping process each time. This is especially useful for the shop's busy times when everyone wants to heal or to poison. I am interested in seeing how Potion Craft progresses and whether more story will be integrated into the final release.
Catty & Batty
Twitter
Platforms: PC (Steam)
Genres: Casual, couch co-op, puzzle
Release date: 10th February 2021
Catty & Batty are on an adventure, except, some spirits need their help! That's ok. We'll grab some moving boxes and help guide them home. Guiding spirits is a two-person job, so Catty & Batty is a local or remote co-op, though I did play solo, which was fine until a level where you need to use both Catty & Batty. Fortunately, I could use the keyboard and mouse and control them both.
The Catty & Batty demo has six levels of saving spirits, and the spirits aren't as co-operative as you'd expect for something wanting to go home. In Lemmings style, place boxes to guide them in the right direction and anticipate when they might go off track. Unlike Lemmings, everything can be salvaged, and there is no death off a ledge or spirits exploding. I also enjoyed the hand-drawn art style, especially the transitions between levels. They look awesome! If you enjoy the demo, the full game is out next week with 30 levels of spirit chaos.
These are my choices for demos to try at the Steam Game Festival 2021, there are so many more in all sorts of genres ranging from platformers to visual novels to RPGs. There is absolutely something for everyone to try. What did you think about my choices? Which game do you think I should try before the festival is over? Let me know in the comments!