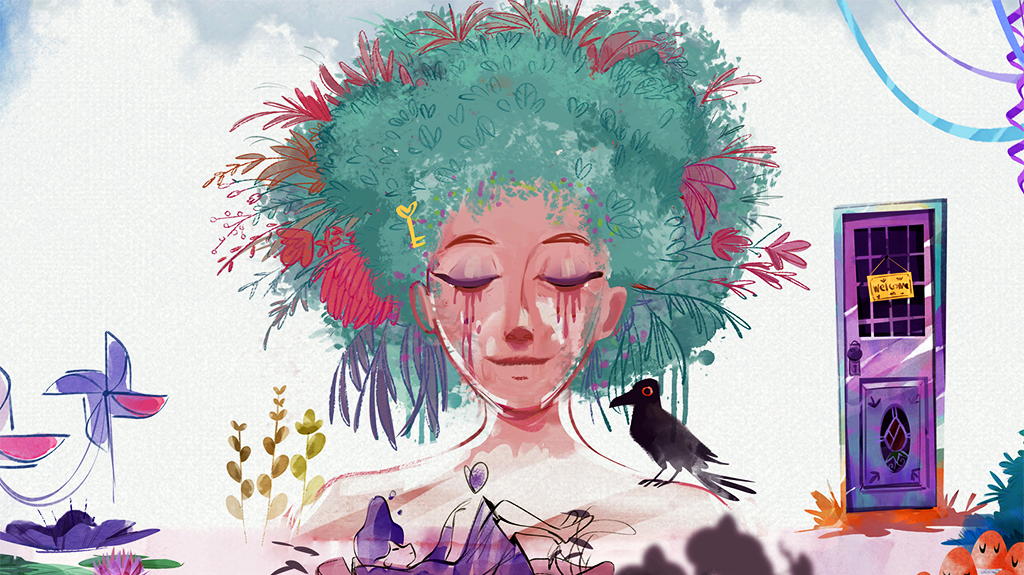 July 2021 indie game releases – part 1
The chaos of June has calmed, and July is a quieter month for indie game releases. Currently, there are only a handful of games I want to mention in new releases, but I am still splitting them up into two, just in case we get some sneak releases throughout the month. Fortunately, a quieter month means we get more time to experience these beautiful games.
Lona: Realm of Colors
Genre: Adventure, point & click
Platforms: PC (Steam)
Release date: 9th July
Lona is trying to deal with the struggles of life and using art as her outlet, but as she becomes consumed by her paintings, she loses touch with the real world and is trapped in her art. There are two sides to her art, chaotic and dark. Help her bring back balance in both these worlds, to bring her back to the real world.
Lona: Realm of Colors is a gorgeous game, with each scene a beautiful piece of art. I am keen to see how these two different worlds interact with each other and what we can do to learn more about Lona and, hopefully, help bring her back.
Plokoth
Genre: 2D platformer, precision platformer
Platforms: PC (Steam & Itch.io)
Release date: 9th July – out now on Itch!
Plo and Oth live in peace in the forest of Plokoth until one day Oth gets sick with an unknown disease. She enters a coma state, but her spirit can leave her body and follow Plo on his quest to find a cure. Unfortunately, when they venture into the forest, they discover that it has also been infected. The deeper they go, the worse it gets. Will Plo ever be able to find a cure for Oth?
It's been a long time since I've gotten into a precision platformer (even though Find the Strawberry is named for Celeste), but the gorgeous scenery of Plokoth has me keen to give it a try. It also appears to be a combat free platformer, which I'm always a fan of and love to play. Want to play now? Plokoth is already available on Itch! The developer, Sam, has a gorgeous Instagram account, so if you enjoy the art in Plokoth, you should go check it out.
The Fermi Paradox – Early access
Genre: strategy, story-rich
Platforms: PC (Steam)
Release date: Out now – early access
Do aliens exist? And, if so, where are they? This is the Fermi Paradox and the question asked in the game. In this turn-based strategy game, you don't guide one civilisation; you guide up to 10 across the galaxy, all at the same time! Every choice matters and can cause ripples across the universe, so choose wisely. Each playthrough is different, and you will run into a wide variety of aliens as you learn the truth.
The Fermi Paradox sounds like a giant game! With 400 different events, each play-through will be different, giving you different options and different endings. I haven't played too many turn-based narrative titles, but The Fermi Paradox has me interested in all the weird and quirky options I might encounter.
Indoorlands – early access
Genre: Simulation, management sim, strategy, building
Platforms: PC (Steam)
Release date: 14th July
Get ready to build the indoor amusement park of your dreams! Place and decorate your ride halls, choose all the colours and make programs for your rides to make the best amusement park you can. With a high level of customisation, your park can be whatever you want, making every one unique.
The more I see of Indoorlands, the more my Rollercoaster Tycoon nostalgia grows. I have been waiting for a good theme park builder and, hopefully, Indoorlands will be the one! I am also interested to see how a fully enclosed amusement park works and what constraints a roof brings to our creations.
As always, there's a bunch of variety in game types in this months indie game releases, so there should be something for whatever mood you're in! As someone who enjoys platformers, builders and adventure games, there's a little bit of everything here for me, and I'm keen on checking them all out.