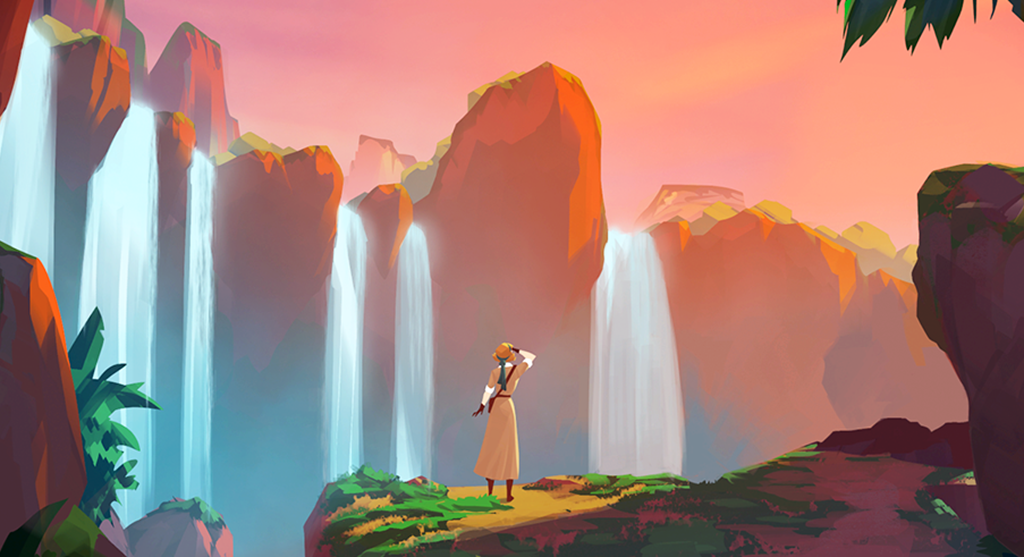 My favourite combat free games of 2020
The year 2020 was a year like nothing most of us have experienced before, but indie devs persevered. There were heaps of excellent indie titles released in 2020, and many of them were combat free! It's been fabulous to see the emergence of more and more combat free games. They're usually also gorgeous to look at, with engaging stories and wonderful soundtracks.
My list comprises my top 5 combat-free games for the year, but there are many more out there. So many that I didn't get a chance even to try all the ones I wanted to. Interestingly, though, three of the five games I've chosen were released in December. If you're interested in games that focus on story and puzzles, rather than combat and fighting to tell their story, check out my top five below.
Alba: A Wildlife Adventure
Website | Twitter
Platforms: PC (Steam) and Apple Arcade
Genres: Adventure, casual
Alba has excellent memories of holidays spent with her grandparents, but when she arrives on Pinar del Mar, the island isn't as she remembers it. Everything is run down, broken and animals are getting caught in plastic on the beach. Worse still, a giant corporation wants to bulldoze the nature reserve and build a massive hotel! Along with her friend Ines, Alba is determined to clean up the island and save the nature reserve.
Alba is such a fantastic game with an important message about caring for our environment. All it takes is one person to bring about change and improve the world as we know it. Ustwo Games believe in this so passionately that they are planting a tree for every game download. At the time of writing this, they have restored three habitats and have more than 276000 trees to be planted.
On top of this, the game is fun and easy to play. Pick it up and occasionally play throughout the day or, like me, play it all in one sitting. Take photos of wildlife and fix up Pinar del Mar with the help of some friends in the village.
Call of the Sea
Website | Twitter | Soundtrack
Platforms: PC (Steam, Gog and Humble), Xbox (including Game Pass)
Genres: Adventure, first-person, puzzle, story-rich
Norah's health has been deteriorating, and there is no known cure. Her husband thinks the answer might lie on an island in the south pacific, so he goes on an expedition to find out. After a few months, Norah stops receiving letters from him and doesn't know whether he's dead or alive. She decides to go after him and see if she can find him and his expedition crew. When Norah arrives on the island, there are clues everywhere, but no one is around. Can she untangle the mystery and find her husband?
I have to admit I didn't even know Call of the Sea existed before researching December 2020 new releases. I'm so glad I found it though because it is beautiful! A gorgeous game with an enchanting soundtrack, and excellent voice acting from Cissy Jones. The story is intriguing and goes in a direction I never expected, but it is an extraordinary adventure.
Röki
Website | Twitter | Soundtrack
Platforms: PC (Steam and Gog), Nintendo Switch
Genres: Adventure, point and click, puzzle, story-rich
Tove has to look after her brother Lars ever since their mother died five years ago. She does her best, though she is a child herself, until one night a monster attacked their house and they flee. They try their best to escape, but Lars gets kidnapped, and Tove needs to journey through a fairy tale-esque world to try and find him. Along the way, Tove will encounter monsters, trolls and many other creatures as she follows her brother's trail. Can she find him before it's too late?
Inspired by Scandinavian folktale, Röki is a gorgeous game filled with mythical beasts. The landscapes and snow are beautiful, with items hidden throughout that Tove can add to her journal. I had a great time adventuring through the world and encountering the lovely (and not so lovely) creatures along the way. There is a good level of puzzling throughout the game, which won't leave you wanting to tear your hair out in frustration. Want to know more about Röki? Check out my review from earlier in the year.
Airborne Kingdom
Website | Twitter
Platforms: PC (Epic)
Genres: Simulation, strategy, city-builder
Take to the sky in Airborne Kingdom, and bring unity and harmony to the ground kingdoms once more. In days gone by, the airborne kingdom kept all the ground kingdoms united, but one day it vanished without a trace. Or so they thought. The answer to the airborne kingdom was held in a tapestry left behind, and with its instructions, the airborne kingdom can exist again.
Airborne Kingdom is so gorgeous! I spent so much time looking at the mosaics on the ground and marvelling at the ground kingdoms. Sure, the airborne kingdom is lovely too, but there is also so much to see on the ground. Combine this beauty with relaxing gameplay and an excellent soundtrack to accompany you on your mission, and you have an amazing city builder.
For me, one of the best features of this game was the lack of combat and war. You don't attack or intimidate the ground kingdoms but help them reconnect with the other kingdoms. It was so lovely to see a city builder where the focus was on unity and not destruction. If you want to see more of my thoughts on Airborne Kingdom, check out my review.
The Last Campfire
Website | Twitter | Soundtrack
Platforms: PC (Epic), PS4/PS5, Xbox, Nintendo Switch and Apple Arcade
Genres: Adventure, Puzzle, story-rich
After becoming separated from their friends, due to a particularly lovely little bird, Ember finds themself in an unknown world that is both creepy and whimsical. As they navigate this world, they come across the forlorn, lost souls that have given up hope. Ember can see into their minds and give them back hope and direction, by way of puzzles. Once the puzzle is solved, the forlorn can make their way to the campfire and safety. Ember must make their way through multiple areas, to help the forlorn and find their purpose.
When I started playing The Last Campfire, I didn't expect the story I found. I am not quite sure what I expected, now that I think of it. I watched the trailer, saw the lovely graphics and decided I had to play it! The Last Campfire has a sweet, touching story that is told beautifully by the narration of Rachel August. She brings a storybook feel to the game, with a somewhat darker tale to tell. My interpretation of this story was about coming out of depressions, but others see it as a story of death and grief, so it is up to the player's interpretation. At about 6 hours long, The Last Campfire is a lovely way to spend a day.
It's been a joy getting to play these games through the year (especially December!) and seeing the unique ideas people come up with. This is something I love about the indie scene; there are no limits! Have an idea? See where it takes you. The fun is in the adventure, exploration and the storytelling, and there is no shortage of stories being told.
Are you looking for more combat free games? Check out my favourites from last year. Let me know what you think and what your favourites of the year were.